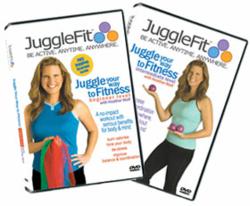 "The key to preventing holiday weight gain is finding an activity that's exciting and engaging for the entire family."
- Heather Wolf, JuggleFit Founder
Gulf Breeze, FL (PRWEB) November 23, 2011
JuggleFit will be running a Black Friday promotion offering 20% of all products purchased on their site using the promo code TURKEYFIT through Dec. 1st, 2011.
With turkey day approaching and cold weather setting in, the last thing on many people's minds is working out. That motivation often hits in January, when people scramble to shed weight gained during holiday celebrations. But JuggleFit founder Heather Wolf says it is possible to prevent weight gain during the holidays, "the key is finding an activity that doesn't require travel time or stepping out into the cold, and one that is exciting and engaging for the entire family." Activities like Wii Fit and dancing are great choices, but for something really different, Heather recommends learning to juggle. "Most people don't think of learning to juggle as exercise, but it burns just as many calories as walking and can be done anywhere. The best part is, it doesn't feel like exercise because the focus is on learning a new skill rather than going through the motions of a workout."
JuggleFit offers a free video lesson on their site to help people get started. "All you need are some small oranges or even plastic grocery bags to learn," says Heather, "which makes it an easy way to fight post-meal sluggishness that can wreak havoc on waistlines." JuggleFit offers professional juggling balls and scarves on their site, as well as DVDs with in-depth troubleshooting and drills. "Believe it or not, anyone can learn to juggle," says Heather, "and the DVDs are like having a personal coach in your living room guiding you every step of the way." Heather, an ACE-certified personal trainer and group fitness instructor, has taught thousands of people to juggle for fitness. "I look forward to teaching as many people as I can, because it makes them laugh with the added bonus of a brain-body workout."
About JuggleFit LLC
JuggleFit LLC is the producer of the Juggle Your Way to Fitness DVDs, which teach juggling in a simple way and provide at-home workouts for brain and body fitness. JuggleFit has been featured in national media such as Fox & Friends and Woman's Day magazine. The company also offers live classes and workshops that demonstrate simple ways to keep fit and eat healthy. JuggleFit LLC is also the creator of the Shake a Snack and JuggleFit Tracker apps for iPhone and iPod touch. JuggleFit DVDs and products are available at http://jugglefit.com.
JuggleFit founder Heather Wolf is available for interviews and on-site demonstrations of the JuggleFit program. Contact Heather at (850) 932-5570 or media(at)jugglefit(dot)com to request a DVD to review.
For further information please visit the JuggleFit Press Room at http://media.jugglefit.com.
###