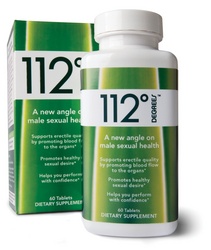 112 Degrees has been carefully developed with an emphasis on safety and purity, backed by science and research. Dr. Marcus Laux offering his extensive expertise to our customers, executives and science team is a natural fit
PORTLAND, Ore. (PRWEB) March 10, 2008
Dr. Laux will monitor medical and scientific activity for LIFE SPAN labs' flagship product, 112 Degrees, an all-natural nutritional supplement for long-term male sexual health, serving as a company spokesperson and helping guide the company's future plans for additional studies and research. Laux also provides visitors to http://www.112degreesformen.com with healthy lifestyle tips for naturally improving men's sexual health.
"112 Degrees has been carefully developed with an emphasis on safety and purity, backed by science and research. Dr. Marcus Laux offering his extensive expertise to our customers, executives and science team is a natural fit," said Rod Tallman, LIFE SPAN labs co-founder and CEO. "Trust and safety are two of the biggest factors when one is considering a male sexual health product. Our customers appreciate that Dr. Laux is a respected expert fully engaged and dedicated to healing; 112 Degrees' affiliation with such an experienced, credible doctor provides them with peace-of-mind."
Tallman noted that Laux's naturopathic values, encompassing a comprehensive approach to overall health, blend perfectly with 112 Degrees' "whole body approach," which emphasizes the vital role that overall health plays in relation to men's sexual health.
"I was drawn to LIFE SPAN labs and 112 Degrees because I firmly believe in what this company is doing. The emphasis LIFE SPAN places on 112 Degrees' safety and science is exactly what is needed by the industry--and men everywhere," said Laux. "The sexual health category is one of the most abused segments in the supplement industry. LIFE SPAN is the exception, it's doing things the right way by providing men with a product that works safely and naturally. LIFE SPAN's approach to long-term male sexual health is right in-line with my philosophy and I'm proud to be part of a natural solution for fellow aging men, providing a new, safe option they can trust for improving their sex lives."
Dr Marcus Laux is a licensed naturopathic physician who earned his doctorate at the National College of Naturopathic Medicine in Portland and has nearly two decades' experience working full-time in private family practice. He has made numerous appearances on CNN, BBC and the Fox Network, and provided expert testimony on dietary supplements before the Clinton Presidential Commission. Dr. Laux has served as chairman and scientific advisory board member for leading natural medicine, nutraceutical science and nutritional supplement companies in the USA, Europe and Asia. Currently, he is the editor of "Naturally Well Today," an international monthly newsletter. He is also the coauthor of "Natural Woman, Natural Menopause" and "Top Ten Natural Therapies" and presents continuing education lectures for medical doctors and pharmacists worldwide.
For more complete information about 112 Degrees and LIFE SPAN labs, including tips on improving both male sexual health and male sexual performance, visit http://www.112degreesformen.com and http://www.lifespanlabs.com.