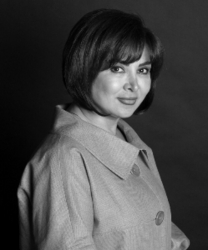 For women who want to find fast, natural relief for their menopause symptoms, the Antiaging Institute of California has an answer: Don't Pause.
Beverly Hills, CA (PRWEB) December 21, 2009
When a woman starts going through menopause, her entire life can change without warning. Menopause symptoms can cause undesirable reactions in the body that runs the gamut from hot flashes and weight gain to mood swings, sleeplessness and irritability. These menopause signs cause women to feel different as well as look different, since skin's elasticity and overall vitality decrease dramatically with the onset of these menopause symptoms. In lieu of taking hormone replacement therapies to treat menopause signs, more and more women are turning to natural menopause remedies for a safer solution that is just as effective.
One of the most promising new natural menopause treatments is a supplement known as Don't Pause. Don't Pause is created by Dr. Shoreh Ershadi at the Beverly Hills Anti Aging Institute of California. Dr. Shoreh Ershadi is a Doctor of Pharmacology and Ph.D. in Clinical Biochemistry and Board Certified by A4M, American Academy of AntiAging Medicine. As President and CEO of the Anti Aging Institute of California, Dr. Shoreh Ershadi drew on all her past knowledge as well as scientific studies to create the impressive natural menopause treatment Don't Pause. Two of the key ingredients in this natural menopause remedy are pomegranate extract and green tea, which help combat the worst menopause signs and symptoms. Menopause weight gain and menopause hot flashes have been shown to dramatically subside with the addition of green tea and pomegranate to a woman's diet, which is why these ingredients are part of the Don't Pause menopause treatment formula.
Women who have tried Don't Pause are gaining back their former vitality, energy, and physiques thanks to the natural menopause remedy's key ingredients. Aside from pomegranate extract and green tea, Don't Pause also contains selenium, Phytoestrogens, Black Cohosh and chromium Picolinate, all of which play tremendous roles in combating the effects of aging. The Anti Aging Institute of California's Dr. Ershadi stands behind Don't Pause as one of the best natural menopause remedies available, and invites women suffering from symptoms like menopause weight gain and menopause hot flashes to give Don't Pause a try. Without risky addition hormones, Don't Pause can make life during menopause worth enjoying.
###