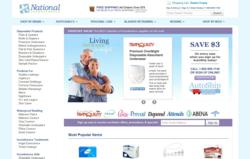 People want to know exactly what they're getting before it comes in the mail. Since they're ordering online, the best way to show them is through video
Ashton, MD (PRWEB) July 31, 2012
"It's been nearly a month since we launched the new National Incontinence, and so far our customers love it," says Renee Mercer, a nurse practitioner and co-founder of Just Health Shops. The new NationalIncontinence.com features an easy-to-use navigation system, product reviews and an all new line of product videos. How did they decide which changes to make? "We just listened to our customers," says Renee. "That's why we started National Incontinence in the first place."
Today Just Health Shops runs 16 online stores, but it all began back in 2001 as The Bedwetting Store, a website focused solely on bedwetting alarms for kids. "As a nurse practitioner, I found that many parents didn't know there was a cure for bedwetting," says Renee. "Bedwetting alarms sound when they sense moisture. They work by conditioning a child's brain to respond to a full bladder."
Renee soon found that her customers also wanted incontinence supplies, such as waterproof bedding. So in 2008 she launched ProtectiveBedding.com. Many adults were also interested in their incontinence products, so later that year Just Health Shops launched NationalIncontinence.com—a site providing everything from protective underwear and bedding to bladder retraining products for adults. Now, National Incontinence gets well over 10,000 visitors every month.
So what's been the most popular change on the site? Videos. Since the new site launched 60 videos have been created and uploaded. Collectively, they've been viewed well over 6,000 times. According to Colleen Crutchfield, Just Health Shops' resident photographer and creator of the new line of videos, "People want to know exactly what they're getting before it comes in the mail. Since they're ordering online, the best way to show them is through video—'Hey, this is what the product is like in action. Here it is on a mannequin.'"
National Incontinence customers can order individual products, or if they have ongoing incontinence needs, sign up for NationalIncontinence.com's AutoShip Plan which lets them receive their incontinence products at regularly scheduled intervals for an even more discounted price.
About NationalIncontinence.com
National Incontinence provides products throughout the United States for people of all ages with bladder control problems. They have helped more than 100,000 patients with bladder issues. Their pediatric division, the Bedwetting Store, is now the largest distributor of pediatric enuresis products in the United States. National Incontinence is proud to serve the millions of families who seek information and practical solutions to bladder control problems and want the best products at the lowest prices.