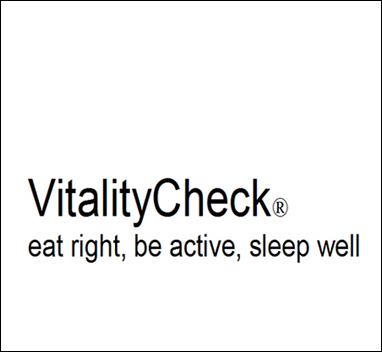 What makes VitalityCheck so valuable is that the advertiser gets remembered as someone who changed my life
Eugene, OR (PRWEB) May 22, 2007
Most people agree that health is more important than money when it comes to measuring happiness, yet few people monitor their health and fitness as carefully as their finances.
That is precisely what Linda Cook, co-founder of newly established Lifestyle Registers, LLC has set out to change with a new no-nonsense health journal that does double-duty as a promotional product.
Lifestyle Registers, LLC has just released VitalityCheck®, a new and innovative daily journal that looks and feels like a traditonal checkbook but works as a 3-in-1 food diary, exercise log and sleep journal. The product's look and feel is designed to remind people to monitor their "health account" as carefully as their bank accounts.
Inspiration for the product came in part from a 1998 study conducted by Obesity Research that shows that consistent self-monitoring is a vital component for successful weight control. "The problem I set out to solve was providing a daily journal that people can actually use. Everything else that I tried required you to be online all the time or, to lug around an embarrasingly big book or, to keep track of a flimsy piece of paper that gets crumpled every time you use it," said Cook.
The daily journal, VitalityCheck®, focuses mainly on diet, exercise and sleep - the three underpinnings for great health - but also encourages goal setting and monitoring other factors that influence health related behaviors. The format is straightforward and is based on broadly accepted nutrition and fitness principles, meaning that it is devoid of any company-centric fads or extremes. The idea is to help users successfully achieve weight loss and other health goals in the same way they that tracking finances helps to achieve financial goals.
Because of the growing, widespread concern about obesity, diabetes and heart disease, VitalityCheck® debuts this month in the promotional products industry for rapid market acceptance and distribution. Promotional products are designed to be imprinted with corporate logos and given away as premiums. According to the Advertising Specialty Institute, health and wellness items (like a food diary) are in the top 10 product categories sold by distributors. Given this statistic about the multi-billion dollar promotional products industry, Cook expects to see high volume sales given that VitalityCheck® is a low-cost, high-impact product. "What makes VitalityCheck so valuable is that the advertiser gets remembered as someone who changed my life," said Cook.
According to a survey conducted by the Promotional Products Association International, over 70% of respondents indicated that they have an easier time recalling the name of an advertiser on a promotional product than they do in a print ad.
For additional information about VitalityCheck® or, to purchase a sample, contact Linda Cook at (541) 349-1818 or visit the product-specific website at http://www.vitalitycheck.biz. VitalityCheck® is a registered trademark of Lifestyle Registers, LLC.
About Lifestyle Registers, LLC
Lifestyle Registers, LLC is a promotional products company that specializes in wellness journals. The company helps advertisers promote their brand, image and reputation by delivering products that focus on preventing disease. Lifestyle Registers, LLC is headquartered in Eugene, Oregon;
Contact:
Linda L. Cook, President
Lifestyle Registers, LLC
(541) 349-1818
###