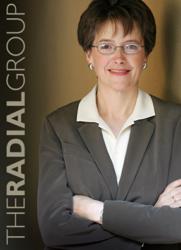 "These eight decisive health and wellness trends will separate winners from losers over the next decade."
Dallas, TX (PRWEB) January 04, 2012
Eight decisive health trends will transform the race among health and wellness businesses and practitioners for customers, clients and members in an increasingly demanding business climate, reports Leslie Nolen, president of The Radial Group, the health and wellness business experts, in a complimentary webinar "Wellness Grows Up: Emerging Consumer Health and Wellness Trends For 2012 and Beyond" on Thursday, January 19, 2012.
Nolen is the author of The Health and Wellness Insider's Guide to Durable Trends, Fleeting Fads & Innovative Ideas. She is a noted authority on health and wellness trends and an expert on the business of wellness who also serves as a source for national media including the Wall Street Journal, The New York Times, and the Los Angeles Times.
She will explore these eight essential health trends and their practical implications in a complimentary online executive briefing on Thursday, January 19, 2012 at 9 a.m. Central.
Open to health and wellness executives, practitioners, entrepreneurs, investors and media, this webinar explains what these new challenges mean for both local and national healthy lifestyle and weight loss businesses, wellness centers, health clubs, gyms and other fitness businesses, yoga studios, conventional, complementary and alternative healthcare practices and other health and wellness businesses.
Readers and reviewers describe The Health and Wellness Insider's Guide as a "profoundly accurate crystal ball." It is the definitive roadmap to the most promising opportunities and the most serious challenges in every important health and wellness sector: fitness, nutrition and weight loss trends, conventional, complementary and alternative healthcare trends, diabetes and obesity trends, and longevity and aging trends.
About The Radial Group
The Radial Group, headquartered in Dallas, TX, provides strategy consulting, marketing services, promotional products and on-demand video training exclusively for health and wellness businesses of all sizes.
Subscribe to Radial's complimentary business newsletters for free resources tailored to the unique requirements of health and wellness businesses.
###