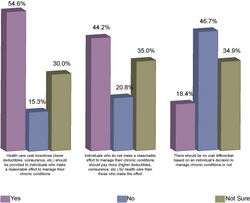 The majority of employers clearly recognize the potential impact of employee health management programs on future plan costs. More than half of all employers continue to believe that financial incentives should be provided to individuals based on their effort to manage their own chronic conditions
Indianapolis, Indiana (Vocus) August 2, 2009
United Benefit Advisors, LLC (UBA), one of the nation's leading employee benefits advisory organizations reveals survey data sighting cost sharing trends associated with personal health management.
"The majority of employers clearly recognize the potential impact of employee health management programs on future plan costs. More than half of all employers continue to believe that financial incentives should be provided to individuals based on their effort to manage their own chronic conditions," according to William Stafford, Vice President, Member Services for United Benefits Advisors. Over 44% agree that individuals should be pay more if they do not make a reasonable effort to control their chronic conditions. Only 18% believe that no cost differential should result from the employees lack of compliance with appropriate treatments of chronic conditions.
Between 15% and 23% of employers currently provide employees with financial incentives to manage their health, use cost-effective providers, or plan to do so next year, said Stafford. Employee incentives to complete health risk appraisals continue to increase notably each year, with incentives for completing health risk appraisals increasing by 130% compared with our 2006 report. Approximately one-third of all employers would like to add such programs in the future.
These and many others results are revealed in the 2009 UBA Employer Benefit Perspectives survey, which delineates employers' positions and opinions on Employee Communications, Personal Health Management and Scope of Benefits Offered. The survey results can provide employers with critical benchmarks that will allow them to compare attitudes and strategies regarding employer-provided benefits with those of their peers and competitors. For additional results, contact your local UBA Member Firm. To find your nearest UBA Member Firm, go to http://www.benefits.com and click on the Advisor Locator tab.
ABOUT THE 2009 UBA EMPLOYER BENEFIT PERSPECTIVES SURVEY - The 2009 UBA Employer Benefit Perspectives and the 2008 UBA Employer Opinion Survey (which addressed employers' specific health care strategies, health benefits philosophy and opinion, health plan management, and Consumer Driven Health Care) serve as companion pieces to the 2008 UBA Health Plan Survey. Released in August, the 2008 UBA Health Plan Survey is the largest and most comprehensive benchmarking survey of health plan design and costs ever conducted in the U.S.
ABOUT UNITED BENEFIT ADVISORS - United Benefit Advisors, is an alliance of nearly 140 premier independent benefit advisory firms with offices in more than 165 offices throughout the U.S, Canada and the U.K., and is one of the nation's top five employee benefits advisory organizations. UBA Members - who actively cultivate, validate and collaborate with more than 1,900 experienced benefits professionals - are uniquely prepared to share their collective wisdom with busy employers who want the assurance that they are making informed choices in a complex and rapidly changing employee benefits marketplace. As trusted and knowledgeable advisors, UBA Members go to extraordinary lengths to seek out solutions, ideas, insight, expertise and best-in-class tools and products that positively impact employers and make a real difference in the lives of their employees. Employers, advisors and industry-related organizations interested in obtaining powerful results from our shared wisdom should visit UBA online at http://www.benefits.com to locate your local UBA Member Firm.
CONTACT:
William Stafford
Vice President Member Services
Phone: 317-705-1800
# # #