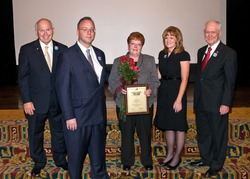 Indianapolis (Vocus) September 26, 2009
Karen Mosier, reimbursement director for Life Care Centers of America's Heartland Division, received Life Care's Division Support Award on Monday, Sept. 21.
The presentation occurred during the company's annual management meeting awards dinner held in Cleveland, Tenn., and honored Mosier for uniquely distinguishing herself through superior performance, loyalty, attitude, teamwork and initiative.
In her position, Mosier oversees reimbursement efforts for the division's 39 buildings in Indiana, Kansas, Kentucky, Missouri and Nebraska. During the meeting, she was recognized for her organization and communication skills, as well as her willingness to lead the way in improving systems and her enthusiasm. Mosier has worked for Life Care for more than 20 years, five of which have been in reimbursement.
The Division Support Award is presented annually to an associate in one of Life Care's seven division offices. He or she is chosen by a vote of executive leadership based on performance and general representation of the Life Care spirit.
Life Care's Heartland Division office is located at 9795 Crosspoint Blvd., Suite 195, in Indianapolis.
Founded in 1976, Life Care Centers of America is a nationwide health care company. With headquarters in Cleveland, Tenn., Life Care operates more than 220 nursing, subacute and Alzheimer's centers in 28 states. For more information about Life Care, visit http://www.lcca.com.
###