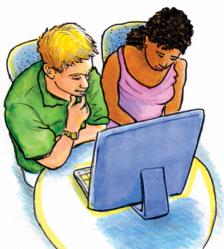 We've done the heavy work—the research, fact checking, editing, proofing, art, design, and even the medical and audience reviews.
(PRWEB) June 19, 2013
Health and wellness organizations looking to expand their online reach know how tough it can be to find quality and easy-to-understand health content. Whether for a single campaign, social media posts, or to enhance a website, the task of providing engaging and accurate health information presents a challenge. A solution is now available through Health Content Your Way, a service offering customizable digital versions of Journeyworks Publishing's trusted and popular print materials.
"The digital versions offered through Health Content Your Way can save organizations time, money and hassle factor," says Mardi Richmond, the Editorial Director at Journeyworks Publishing. "We've done the heavy work—the research, fact checking, editing, proofing, art, design, and even the medical and audience reviews—to make sure these materials are accurate, understandable and appropriate for the audience."
Through partnership with Sheridan, Journeyworks Publishing's extensive collection of printed materials will be available in a web friendly and easy-to-read PDF format. This provides any organization a cost-effective way to add content without having to rework current websites or social media approaches. And, as a huge plus, the PDF health content will be accessible on most devices, from smart phones to tablets to computer screens.
By accessing the more than 700 titles available through Journeyworks Publishing, topic and audience options abound. Learn more about the possibilities by visiting Health Content Your Way.
About Journeyworks Publishing
Journeyworks Publishing is a national health education and health promotion publisher with more than 10,000,000 pamphlets, brochures, booklets, posters, bookmarks, videos, digital versions and other products distributed each year. Used extensively by public health departments, hospitals, schools, VA programs and more, Journeyworks materials are known for being creative, effective, easy-to-read, and accurate. You can learn more by visiting http://www.journeyworks.com.
About Sheridan
Journeyworks has proudly teamed with Sheridan, a leader in digital content solutions. Sheridan has a long heritage of developing services and solutions that improve how their customers create and deliver their content. Their goal with electronic publications is to help customers understand and navigate the changing landscape of digital content. To learn more, visit http://www.sheridan.com.