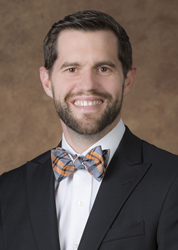 "Not only cleaning the data but delivering it back to organizations in ways that are usable and actionable, is something not very many organizations are doing successfully. Verinovum is one of the few companies I see getting ahead of the problem." - Dr. Scott Shepherd
TULSA, Okla. (PRWEB) June 19, 2019
Verinovum, a health data enrichment and integration technology company, announced today the appointment of Scott Shepherd, DO, FACP, as the company's Chief Medical Officer. Dr. Shepherd is a seasoned hospitalist and medical director with a passion for using healthcare data to improve quality outcomes.
Dr. Shepherd has been the medical director for hospitalist medicine at St. John Health System in Oklahoma for the past year, where he served as associate director for several years previously. He is also currently medical director for Oklahoma State University's Center for Health Systems Innovation (CHSI).
After joining CHSI in 2015, he began providing medical direction to a team of data analysts working on the largest-ever relational healthcare database, HEALTHFACTS, from Cerner. In addition, he continues to work with the team at CHSI to develop meaningful research using EHR data with some of the most recent projects, including topics like sepsis early detection and hip fracture readmission.
"Dr. Shepherd's combined clinical expertise and passion for using data to improve quality of care make him an invaluable resource for Verinovum," says Mark McCurry, CEO of Verinovum. "We strive to continue to provide the highest-quality, most actionable data to ACOs, CINs, health systems, and payers, and Dr. Shepherd's clinical experiences offer a clear example of how that information can elevate healthcare. We are pleased to welcome him to the team."
Early in his career, Dr. Shepherd played a key role in several quality improvement projects, in areas including geriatric hip fractures, spine health, and geriatric trauma. "All of those programs were driven by wanting to improve quality at the bedside, and a lot of that was assessed by following the data," he says.
"One of the first things I learned was how dirty healthcare data is. EHRs are great at capturing data, but as error-prone humans, we don't always do a great job of entering the data in a high-quality manner," Dr. Shepherd says. "Not only cleaning the data but delivering it back to organizations in ways that are usable and actionable, is something not very many organizations are doing successfully. Verinovum is one of the few companies I see getting ahead of the problem."
Dr. Shepherd graduated from Oklahoma State University with a BS in Athletic Training and went on to attend medical school and earn his DO at OSU.
"I believe that the legacy of my generation of physicians will be data," he says. "This is a challenge that I believe is going to be a major factor in the future of healthcare, and I'm proud to be a part of the group that is moving that ball forward in a meaningful way."
About Verinovum
Verinovum builds foundational technology to support the healthcare industry. The company is a market leader of clinical and claims data cleansing and remediation, enabling accountable care organizations, clinically integrated networks, and payers to improve operating performance and quality by delivering actionable information. Verinovum's Data Enrichment and Interchange Platform-as-a-Service (PaaS) supports regional data efforts across the United States. By focusing on aggregation, normalization and enrichment of data from disparate sources, the platform facilitates health data interchange, community.