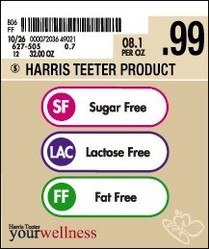 Charlotte, NC (Vocus) January 19, 2009
Harris Teeter is proud to introduce a new addition to its yourwellness program, its free bi-monthly yourwellness e-letter, filled with the latest health information shoppers can use to optimize wellbeing.
To ensure the quality of the information provided in the yourwellness e-letter, Harris Teeter has teamed up with a board certified physician with expertise in integrative health and a certified nutritionist. Russell Greenfield, M.D. and Beth Avery, R.D. are committed to offering Harris Teeter shoppers helpful information on healthy living that is easy to understand..
Each yourwellness e-letter is personally crafted by Dr. Russ and Beth, and is designed to help shoppers get healthy, stay healthy and feel great! Each e-letter will also include yourwellness cooking demonstrations, an informational video from Dr. Russ, and member only electronic discounts.
All shoppers with a VIC card and an email address can "opt-in" to this program by signing up at harristeeter.com. Once on the site shoppers simply enter their VIC card number, last name and the e-mail address where they would like to receive their bi-monthly yourwellness e-letter. Harris Teeter guarantees the privacy of all users, and customers can "opt-out" or unsubscribe at any time.
Harris Teeter is committed to providing its customers with the best shopping experience possible. The yourwellness e-letter is just another way to show shoppers that we care. This program is for informational purposes and should not be considered medical advice. Harris Teeter would like to encourage its shoppers to check with their doctor before making significant lifestyle changes.
To learn more about the components of our yourwellness program including the wellness keys and shef tags, please visit our web site
http://www.harristeeter.com:
Harris Teeter, Inc. with headquarters in Matthews, NC, is a subsidiary of Ruddick Corporation (NYSE:RDK). Harris Teeter is the 21st largest supermarket in the United States with 2008 sales of $3.99 billion. The grocery store chain employs over 21,000 associates and has 177 stores in North and South Carolina, Virginia, Georgia, Tennessee, Maryland, Delaware, Florida, and the District of Columbia.
###