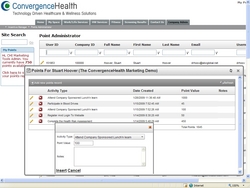 What's in it for me
Incline Village, NV (PRWEB) February 25, 2009
It is well documented that employees respond best to "What's in it for me" incentives. Without an easy to manage system, even that tactic can quickly fail. Every organization has a unique set of needs and circumstances in running a successful wellness program. The programs are personalized in numerous ways including company size, the choice of online only programs, or the addition of onsite wellness activities such as Health Fairs and lunch time walking programs. Participation and rewards are monitored by the accumulation of points assigned to these activities. If a point tracking system is difficult to setup and manage, disbursing rewards becomes challenging and ineffective. Timely rewards are essential in aligning participation and motivation levels with achievable goals.
The CH Incentive Manager Software offers easy and intuitive management and reporting capabilities to help track activity points earned, measure outcomes and disperse rewards. The bottom line is the employer wants to see reduced health care spending and show a return on the health management investment. Without consistent employee participation - programs fail. Rewards and incentives drive success. It's just that simple.
CEO of ConvergenceHealth Byron Gehring says, " We're very pleased to have added to our product suite a comprehensive incentive program that makes it easy for our customers to manage rewards. The response has been excellent from our clients who are using the Incentive Manager. Our partners have said they love the intuitive design and integrated management of tracking and dispensing rewards within the CH suite of Health and Wellness products."
For a full demonstration, or more information please contact us at http://www.convergencehealth.com or call ConvergenceHealth at 775 832-6555.
# # #