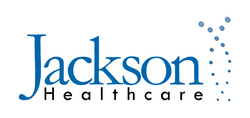 A key to our success is understanding and responding to the unique challenges of hospital executives
Alpharetta, GA (Vocus) May 22, 2009
Jackson Healthcare announces the appointment of Charles R. Evans and Reynold J. Jennings to the Advisory Board of Jackson Healthcare LLC (JH). JH provides physician, nurse and allied health staffing, hospital management and healthcare information technology solutions to over 1,000 hospitals in the U.S.
Evans and Jennings bring nearly 40 years each of senior level hospital operations experience to JH. They will serve as senior advisors to JH leadership, as the company expands its operations from staffing and IT services to general hospital management.
"A key to our success is understanding and responding to the unique challenges of hospital executives," says Richard Jackson, Chairman and CEO of JH. "They are our primary customer. Charlie and Reynold represent the voice of our customer. Each brings experiences from hundreds of hospitals across the U.S."
Evans currently serves as President of International Health Services Group, a social enterprise he founded in 2007 to support health services development in underserved areas of the world. He retired in December 2006 as President of HCA's Eastern Group in Nashville, TN.
During his tenure with HCA, he also managed company divisions including North Carolina, MidAmerica and Southeast. Prior to joining HCA in 1995, he served in executive positions at Community Hospitals, Indianapolis, Indiana and Memorial Medical Center of Jacksonville, Florida.
Evans is a Fellow in the American College of Healthcare Executives and currently serves as its Chairman of the Board. A native of West Virginia, he earned a MA from Indiana University of Pennsylvania and a MBA from Indiana University.
Jennings currently serves as Chairman of Talentum Health, a healthcare information aggregation company, and provides strategic advice to other healthcare organizations including capital formation. He retired in July 2007 as Vice Chairman of Tenet Healthcare Corporation in Dallas, TX. He also served as Tenet's COO.
Prior to Tenet, he was a corporate manager with three national healthcare companies and started his career as CEO of three general acute care hospitals.
Jennings is a Life Fellow in the American College of Healthcare Executives. He served on the Executive Committee of the Federation of American Hospitals and was Chairman of the Florida League of Hospitals. A Dalton, Georgia native, he earned a MS in business administration from the University of South Carolina.
Evans and Jennings have joined advisory board members, Daniel Barker and Paul Ellison. Barker is Retired, Director of Hospitals for Woodruff Health Sciences Center of Emory University. Ellison served as Executive Vice President of The SunHealth Alliance. In addition to helping JH build solutions to meet healthcare executive needs, the advisory board will be a resource during acquisitions for the newly created Jackson Hospital Affiliates, a hospital management company.
About Jackson Healthcare - Founded by healthcare pioneer Richard L. Jackson, Jackson Healthcare addresses the two biggest challenges facing healthcare today: finding the right people and delivering the right information at the right time. The JH family of companies provides physician, nurse and allied health staffing, anesthesia management, hospital management and healthcare information technology solutions proven to improve clinical and financial outcomes and increase operational efficiency.
With over 400 associates in Alpharetta, Ga., and a total of 600 nationally, JH serves more than three million patients in some 1,000 hospitals each year. With a 43-percent compound annual growth rate in revenues between 2005 and year-end 2008, the company ranked seventh on Atlanta Business Chronicle's "Pacesetters" list of Atlanta's fastest-growing companies in 2007 and 2008. JH was ranked the 5th largest Healthcare Staffing Company by Staffing Industry Analyst Report in October, 2008. JH also was named to the Inc. 500 list in 2004; to the Inc. 5000 in 2007 and 2008; ranked 6th on the 2008 Georgia Trend Fastest Growing Mid Market Companies, and as one of "Atlanta's Best Places to Work" by the Atlanta Business Chronicle in 2007 and 2008. The firm's operating entities include: Jackson & Coker, Jackson Hospital Affiliates, Jackson Therapy Partners, LocumTenens.com, Parker HealthcareIT, Patient Placement Systems, Premier Anesthesia, StatCom, and Travel Nurse Solutions.
###