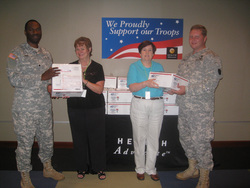 The level of participation reflected the commitment of our employees to support our troops and the local men and women from our community who are serving our country, and that was quite wonderful
Plymouth Meeting, PA (Vocus) August 25, 2009
Health Advocate, Inc., the nation's leading independent healthcare advocacy and assistance company, has donated 26 boxes of items including shampoo, conditioner, snacks, gum, books and magazines to the 1st Battalion of the 111th Infantry of the Pennsylvania Army National Guard.
To commemorate the event, Sergeant Matt Cahill, of Swedesboro, N.J., and Specialist Michael King, of Philadelphia, visited Health Advocate's Plymouth Meeting headquarters on August 4th to accept the gifts. The Plymouth Meeting-based unit, currently stationed in Iraq, received the boxes on August 10th.
"We wanted to honor the sacrifice and bravery of our armed forces, because they do so much to protect the values we enjoy everyday," said Martin Rosen, Executive Vice President and cofounder of Health Advocate. "The fact that the unit is based just a couple of miles from our headquarters just made it a natural decision."
The idea for the collection was spawned by Ed Hampson, a Senior Health Advocate with the company, whose son John is currently stationed in Iraq with the 1st Battalion of the 111th Infantry. The collection drive, which was planned and supervised by an activity team of Health Advocate employees (Sue Clark, Sarah Forsyth, Betty O'Reilly, Eva Zuckerkandel, and Shauna Duffin), began on July 2 and ran through July 15. Health Advocate employees were encouraged to donate supplies and money as part of a company-wide effort.
"The level of participation reflected the commitment of our employees to support our troops and the local men and women from our community who are serving our country, and that was quite wonderful," Rosen said. "The troops deserve it."
About Health Advocate
Health Advocate™, Inc., the nation's leading independent healthcare advocacy and assistance company, offers a spectrum of time- and money-saving solutions to businesses. We serve more than 15 million Americans and 5,000 clients—including the nation's largest companies—offering expert, personalized help to navigate the complex healthcare system and resolve clinical and insurance issues. Our complementary solutions, offered for an additional charge, include Wellness Advocate, Pricing Decision Support and HR solutions. The company also offers a direct-to-consumer advocacy service, called Health Proponent® to individuals who are not part of groups.
Founded in 2001 and headquartered in suburban Philadelphia, Health Advocate, has been recognized as one of America's fasting growing private companies by Inc.500 and is rated one of Philadelphia Magazine's Top 20 Places to Work.
Health Advocate is not affiliated with any insurance or third party provider. Health Advocate does not replace health insurance coverage, provide medical care or recommend treatment.
http://www.HealthAdvocate.com
http://www.HealthProponent.com
Contact:
Jessica Parker-Smith
Public Relations Director
Health Advocate, Inc.
D: 610-397-7753/ Toll Free: 866-385-8033 x7753
C: 484-354-8084
###