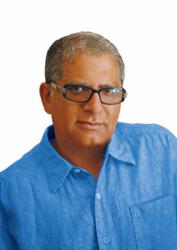 Carlsbad, CA (PRWEB) February 22, 2012
The Chopra Foundation is excited to announce the speakers and topics planned for the morning of the second day of the three-day Sages and Scientists Symposium taking place in Carlsbad, California March 3–5, 2012. The distinguished assemblage of speakers, which includes retired General Wesley Clark and former President of Mexico Vicente Fox, are gathering to publicly discuss some of the greatest questions facing mankind.
The speakers who will explore the greater questions of science, consciousness and well-being Sunday morning are:
Fred Kuttner – Einstein, Bell, and Spooky Action at a Distance
Bruce Rosenblum, Ph.D. – The Quantum Two-Slit Experiment, Physical Reality, and Free Will
Lothar Schäfer, Ph.D. – Quantum Reality and the Metamorphosis of Consciousness
Stuart Hameroff, M.D. – The Fractal Hierarchy of Consciousness: Brain, Mind, Universe
WELL-BEING

Candace Pert, Ph.D. – Where Science Meets Spirituality
Richard Davidson, Ph.D. – The Emotional Life of Your Brain: How Its Unique Patterns Affect the Way You Think, Feel, and Live and How You Can Change Them
Daniel Siegel, MD – From Me to We: Cultural Evolution and the Relational and Embodied Mind
Elissa Epel, Ph.D. – Mind Your Cells: Links Between Cell Aging and States of Mind
Alexander Tsiaras – The Biological Rules of Wellness Visualized
Marilyn Schlitz, Ph.D. – Death Makes Life Possible: Exploring Cosmologies of Dying and Beyond
CONDENSED BIOGRAPHIES
Fred Kuttner is a Lecturer in the Department of Physics at the University of California at Santa Cruz. He devotes most of his time to teaching physics after a career in industry, including two technology startups and a second career in academic administration. His research interests have included the low temperature properties of solids and the thermal properties of magnets. For the last several years he has worked on the foundations of quantum mechanics and the implications of the quantum theory.
Bruce Rosenblum is Ph.D. is a professor of physics, former chairperson of the Physics Department at the University of California, Santa Cruz, and coauthor of "Quantum Enigma" with Fred Kuttner. He has researched the behavior of electrons in semiconductors, plasmas in solids, and superconductivity. He has also explored the mechanism animals might use to detect the earth's magnetic field and the mysteries of quantum mechanics.
Dr. Rosenblum holds a BS in engineering physics from NYU and a Ph.D. from Columbia, where he studied microwave molecular spectra. His postdoctoral work at UC Berkeley involved investigating electron motion in metals (Fermi surfaces).
Lothar Schäfer, Ph.D. is the Edgar Wertheim Distinguished Professor of Physical Chemistry at the University of Arkansas in Fayetteville. He received his Ph.D. in chemistry from the University of Munich in 1965, and is the recipient of numerous awards for his scientific work. His research interests include topics in applied quantum chemistry and molecular structural studies by electron diffraction.
Schäfer is the author of the book In Search of Divine Reality - Science as a Source of Inspiration. The book is, in essence, a brilliant description of the encounter of Science and Religion, wherein Schäfer proposes "that the traditional conflict between the two disciplines is mainly one involving classical, Newtonian Science; and many of its most pressing issues have obtained an entirely different meaning by the change in world view effected by the discovery of Quantum Mechanics."
Stuart Hameroff, M.D. is a physician and researcher at the University of Arizona Medical Center in Tucson. He received his BS degree from the University of Pittsburgh and his MD degree from Hahnemann University Hospital. He took an internship at the Tucson Medical Center in 1973, and since 1975 he has spent the whole of his career at the University of Arizona, becoming professor in the Department of Anesthesiology and Psychology and associate director for the Center for Consciousness Studies, both in 1999, and finally Emeritus professor for Anesthesiology and Psychology in 2003.
The operations of microtubules are remarkably complex and their role pervasive in cellular operations; these facts led to the speculation that computation sufficient for consciousness might somehow be occurring there. These ideas are discussed in Hameroff's first book, Ultimate Computing. His other book is Shadows of the Mind: A Search for the Missing Science of Consciousness.
Candace Pert, Ph.D. is presently the Chief Scientific Officer and co-founder of RAPID Laboratories, a private research laboratory in Rockville, Maryland focused on HIV treatments and vaccines, and more recently, peptide treatments for Alzheimer's disease and neuropathic pain. Previously, Dr. Pert was a Research Professor in the Physiology & Biophysics Department of Georgetown University School of Medicine for ten years and Chief of the Section on Brain Biochemistry at the NIMH, where she was on the staff from 1975-1988.
An expert on peptides and receptors, Dr. Pert has published over 300 scientific papers and two books. The first, Molecules of Emotion, has been on neuroscience best seller lists for over ten years and has been translated into 2 dozen languages. Dr. Pert mingles her theories of mind-body communication with advice on achieving personal bliss in this and her second book, Everything You Need to Know to Feel Go(o)d, as well as her musical CDs Healing the Hurting, Shining the Light (2010) and Psychosomatic Wellness.
Richard Davidson, Ph.D. is the William James and Vilas Research Professor of Psychology and Psychiatry, Director of the Waisman Laboratory for Brain Imaging and Behavior and the Laboratory for Affective Neuroscience, Founder and Chair and the Center for Investigating Healthy Minds, Waisman Center at the University of Wisconsin-Madison.
Dr. Davidson received his Ph.D. from Harvard University in Psychology and has been at Wisconsin since 1984. He has published more than 275 articles, many chapters and reviews, and edited 13 books. He has been a member of the Mind and Life Institute's Board of Directors since 1991. He is the recipient of numerous awards for his research including a National Institute of Mental Health Research Scientist Award, a MERIT Award from NIMH, an Established Investigator Award from the National Alliance for Research in Schizophrenia and Affective Disorders (NARSAD), a Distinguished Investigator Award from NARSAD, the William James Fellow Award from the American Psychological Society, and the Hilldale Award from the University of Wisconsin-Madison.
Daniel J. Siegel, MD received his medical degree from Harvard University and completed his postgraduate medical education at UCLA with training in pediatrics and child, adolescent and adult psychiatry. He served as a National Institute of Mental Health Research Fellow at UCLA, studying family interactions with an emphasis on how attachment experiences influence emotions, behavior, autobiographical memory and narrative.
Dr. Siegel is currently clinical professor of psychiatry at the UCLA School of Medicine, where he is on the faculty of the Center for Culture, Brain, and Development and Co-Director of the Mindful Awareness Research Center. An award-winning educator, he is a Distinguished Fellow of the American Psychiatric Association and recipient of several honorary fellowships.
Elissa Epel, Ph.D. is an Associate Professor at UCSF in the department of Psychiatry. She is a psychology researcher who investigates the depths and intricacies of the mind-body connection. With her colleague Elizabeth Blackburn (Nobel Laureate, 2009) and team of collaborators, she has found that chronic psychological stress wears down the telomeres, the protective tips of chromosomes, around a decade earlier than expected.
Epel holds her BA in Psychology from Stanford and Ph.D. in Health Psychology from Yale. She was awarded the American Psychological Association Early Career Award. Epel is a co-founder of Telome Health, Inc., with Drs. Cal Harley, Elizabeth Blackburn, and Jue Lin.
Alexander Tsiaras is an internationally renowned technologist, artist, journalist, entrepreneur and author. At the age of 19, Mr. Tsiaras returned to his parents' village and spent a year herding 2,000 goats from the Macedonia Albanian boarders down to his mother's village near the base of Mount Olympus, where he remained to produce his first book, Death Rituals of Rural Greece (Princeton University Press). Mr. Tsiaras attended Philips Academy and Amherst College, only two of the seven schools of which he was thrown out.
Tsiaras studied painting and sculpting and was apprenticed to artists George Segal and Lucas Samaras. Along with being an artist and journalist, he has taught himself mathematics and physics and developed his own lenses, including one for a microscope that was used to photograph the first images of human eggs in an in vitro fertilization program.
Marilyn Schlitz, Ph.D. is the President and CEO of the Institute of Noetic Sciences, a clinical research scientist, medical anthropologist, writer, speaker, thought leader, and change consultant. Her work over the past three decades explores the interface of consciousness, science, and healing.
Schlitz grew up in Detroit, MI and received a bachelor's degree in philosophy from Montieth College, Wayne State University; a master's degree in social and behavioral sciences at the University of Texas, San Antonio; and her Ph.D. in anthropology from the University of Texas, Austin. She also earned two post doctoral fellowships: one from the Cognitive Sciences Laboratory at Science Applications International Corporation and one in Psychology at Stanford University.
The public and press are invited to come together for these three packed days of conversation on science and consciousness. Sages and Scientists will explore responsible leadership, environmental sustainability, peace and justice, world transformation, and social and economic challenges, and will end with a summarization and creative solutions.
The Chopra Foundation is requesting a donation of $1,995—$1,000 of which is tax deductible—for general participation, after which registration will be complimentary. Contributions to the Symposium will be used to support collaborative research on the realization of consciousness, carry on the Foundation's other charitable work, and pay expenses for the program.
Accommodations are available at The La Costa Resort and Spa. Please register online at http://www.choprafoundation.org and use the promo code #54E883 or call (800) 854-5000.
When making a reservation, please mention "The Chopra Foundation Sages and Scientists Symposium" to receive the special discounted rate: $169 per night. This rate excludes resort fees and taxes, and is based on availability.
In addition to the specified room rates, there will be an Automatic Daily Resort charge of $10, plus California Tourism Assessment Fee (which is currently 0.13% per room, per night), plus applicable taxes (which are currently 10%).
To obtain more information about The Chopra Foundation, please visit the Foundation's website: http://www.choprafoundation.org.
About the Chopra Foundation
The Chopra Foundation is a 501 (c) (3) organization dedicated to improving health and well-being, cultivating spiritual knowledge, expanding consciousness, and promoting world peace to all members of the human family.
The organization's mission is to participate with individuals and organizations in creating a critical mass for a peaceful, just, sustainable, and healthy world through scientifically and experientially exploring non-dual consciousness as the ground of existence and applying this understanding in the enhancement of health, business, leadership and conflict resolution.
To learn more about The Chopra Foundation, please visit the Foundation's website: choprafoundation.org.
# # #