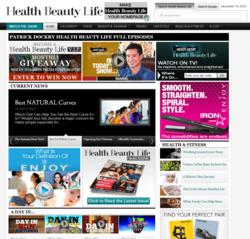 Health Beauty Life.com is now your personal homepage with Google search!
San Diego, CA (PRWEB) December 17, 2012
On December 13th, 2012, Health Beauty Life Magazine's online website merged its magazine and internet presence by adding Google search capabilities, allowing visitors to enjoy the latest celebrity news, cooking tips, beauty & fashion, health & fitness, travel, and lifestyle, along with the ease of Google search.
Health Beauty Life.com visitors can now make the site their first stop for celebrity news and current events, and to watch and experience every episode of the nationally syndicated television series, Patrick Dockry Health Beauty Life.
Health Beauty Life is a complete media experience incorporating online, nationally distributed print and nationally syndicated TV with an emphasis on exclusive and behind-the-scenes celebrity interviews (Mario Lopez, Fran Drescher, Kathy Ireland, Danica Patrick, Eva La Rue and others), rich travel episodes that share the world's most beautiful cities "…in a day", healthy cooking and dining, influential non-profit organizations, and editorial features designed to educate, entertain and inspire.
With the integration of Google Search, Health Beauty Life provides visitors easy web searching with live content and up to the moment information. Additionally, visitors are invited to become Health Beauty Life V.I.P's, receive an online newsletter and become eligible for valuable giveaways. The site radiates positivity with articles that are focused on individuals whose stories are as inspirational as they are entertaining.
About Health Beauty Life
Established in 2010, Health Beauty Life Media collectively celebrates lives well-lived and admirable lifestyles in a unique 360 degree media that merges interactive QR coded print (Health Beauty Life magazine) online, (Health Beauty Life.com) and nationally syndicated television ("Patrick Dockry Health Beauty Life".)