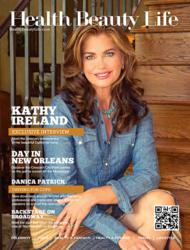 "Moms are the 'CEO's' of their households and they deserve appreciation for being the decision makers."
- Kathy Ireland in Health Beauty Life Magazine
San Diego, CA (PRWEB) January 15, 2013
Kathy Ireland graces the pages of Health Beauty Life Magazine (HBL) in an exclusive interview at her Tuscan estate nestled in Santa Barbara, California. Health Beauty Life's publisher, Patrick Dockry (Patrick Dockry Health Beauty Life) had the pleasure of sitting down with CEO and Chief Designer of kathy ireland WorldWide, and learned about her newest venture into wedding and social occasion gowns for kathy ireland Weddings by Mon Cheri Bridal. Furthermore, the latest issue goes behind the scenes of Kathy Ireland's Design Ambassadors, Chef Andre Carthen and Nicholas Walker, who are critical in bringing her collections to life – from the kitchen to the garden.
With the company mottos, "…finding solutions for families, especially busy moms," "…finding solutions for people in love," and "…finding solutions for people in business™" Kathy Ireland has established a brand for women, especially moms and their everyday lives. Patrick Dockry and the HBL team deliver exceptional pieces that exemplify the many sides of her organization from simple dining solutions to top wedding destinations and design collections focused around nature and the elements. Health Beauty Life captures the essence of Kathy Ireland as a person,business woman, designer, and a brand whom consumers trust.
Health Beauty Life Magazine is a national publication of exclusive celebrity interviews, popular destination travel, cooking, health & fitness, beauty & fashion and lifestyle elements. All interview segments and articles can be enjoyed as video articles (many in longer, uncut versions) at http://www.HealthBeautyLife.com.
About Patrick Dockry
Patrick Dockry is the Publisher, Executive Producer and Host of Health Beauty Life. Patrick oversees the growing world of Health Beauty Life, including national print: Health Beauty Life magazine, online: HealthBeautyLife.com and his national television show: Patrick Dockry Health Beauty Life.
About Health Beauty Life
Established in 2010, Health Beauty Life Media collectively celebrates lives well-lived and admirable lifestyles in a unique 360 degree media that merges interactive QR coded print (Health Beauty Life magazine) online, (Health Beauty Life.com) and nationally syndicated television ("Patrick Dockry Health Beauty Life".)