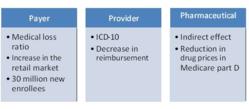 Healthcare BPO Market is growing at a healthy CAGR of 21.4%. Pharmaceutical outsourcing accounts for the largest share of 64.3%, but will grow at a CAGR of 14.6% by 2016
(PRWEB) December 18, 2012
MarketsandMarkets conducted a study on the "Healthcare BPO Market – Payer (Claims Processing), Provider (Medical Billing & Coding) and Pharmaceutical (Clinical Trial & Contract manufacturing) Outsourcing – Global Analysis & Forecasts (2011 – 2016)", which analyzed and studied the major market drivers, restraints, and opportunities in North America, Europe, Asia-Pacific, and Rest of the World.
Browse market 167 data tables & 11 figures spread through 454 pages and in-depth TOC on "Healthcare BPO Market".
http://www.marketsandmarkets.com/Market-Reports/healthcare-outsourcing-bpo-market-472.html
Early buyers will receive 10% customization on reports.
The global healthcare BPO market is growing at a high CAGR of 21.4%. Pharma outsourcing accounted for the largest share of 64.3% in 2011. However, it will grow at a lower CAGR of 14.6% from 2011 to 2016 since the market is saturated.
The global pharmaceutical industry is slowly moving from the fully integrated model towards the model of outsourcing, where drug companies will utilize the expertise of its partners in clinical research, manufacturing, and other non-clinical services. Major segments that are outsourced in clinical research are clinical trials and central lab services. Post 2005, the outsourcing of drug discovery and pre-clinical services has also picked up. In the contract manufacturing sector, companies outsource API manufacturing to a larger extent compared to outsourcing of formulations and packaging, and non-clinical services. Non-clinical services that are frequently outsourced are supply-chain and logistics management, sales and marketing, HR, procurement, IT, and others. Currently, the global pharma outsourcing market is majorly driven by the factor of cost savings, coupled with increasing R&D costs, low productivity, and thin product pipeline also increasing cost pressures.
Low-costs destinations like India, China, Philippines, and the Latin American region are available for outsourcing, amongst which India has a major share in payer, provider and pharma outsourcing. China has a strong presence in pharma outsourcing, but has no significant share in payer and provider outsourcing. Philippines is also observed as a growing destination for the payer and provider outsourcing market. Most healthcare outsourcing activities are completed onshore in the U.S. to the destination BPO business. Healthcare outsourcing is largely managed in-house because of greater control on activities and less intellectual property issues.
Agreements, collaborations, partnership and joint ventures is the most common strategy used by companies to increase their market share and consolidate their market presence. The period of 2009 to 2011 witnessed 220 agreements, collaborations, partnership and joint ventures taking place in the global healthcare BPO market. These were used to acquire access to technologies and expertise not available in-house, and to build long-term relationships with the customers in order to secure repeat business.
The major players in the payer and provider outsourcing market are Accenture (Ireland), MedusInd (U.S.), Gebbs Healthcare (U.S.), Omega Healthcare (India) and Inventive (U.S.). The pharma outsourcing market is captured by players like Quintiles (U.S.), Covance (U.S.), PPD (U.S.), Parexel (U.S.), Charles Rivers Laboratories (U.S.) and ICON (Ireland) in the CRO space; while in the CMO market, the major competitors are Lonza (Switzerland), Catalent (U.S.), Boehringer Ingelheim (Germany), DSM Pharma (U.S.), and Jubilant Life Sciences (India).
About MarketsandMarkets
MarketsandMarkets is a global market research and consulting company based in the U.S. We publish strategically analyzed market research reports and serve as a business intelligence partner to Fortune 500 companies across the world.
MarketsandMarkets also provides multi-client reports, company profiles, databases, and custom research services. They cover thirteen industry verticals, including advanced materials, automotives and transportation, banking and financial services, biotechnology, chemicals, consumer goods, energy and power, food and beverages, industrial automation, medical devices, pharmaceuticals, semiconductor and electronics, and telecommunications and IT.
We at MarketsandMarkets are inspired to help our clients grow by providing apt business insight with our huge market intelligence repository.To know more about us and our reports, please visit our website http://www.marketsandmarkets.com
Contact:
Mr. Rohan
North - Dominion Plaza,
17304 Preston Road,
Suite 800, Dallas, TX 75252
Tel: +1-888-6006-441
Email: sales (at) marketsandmarkets (dot) com
http://www.marketsandmarketsblog.com/