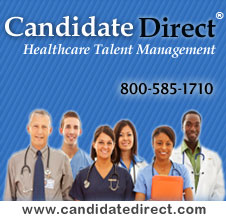 With economic uncertainty on the horizon, investing in permanent staff can be expensive and risky. Contingent workers minimize employer's obligation and exposure to labor laws, while affording staffing managers the flexibility to downsize their workforce
Boca Raton, FL (PRWEB) July 12, 2011
Effectively blending travel nurses and contingent workers with permanent staff can save healthcare employers up to 13 percent on staffing costs. Though during tough economic times hospitals may limit the use of travelers and temporary workers as a means of cutting costs, vendor staffing experts at Candidate Direct say doing so can have the opposite effect: too few travelers can increase staffing costs and reduce nurse efficiency.
Last year alone, almost 90 percent of contingent staff users said costs would rise if they eliminated the use of temporary workers. By increasing the ratio of travel nurses to permanent nurse staff hospitals can reduce costly overtime, health benefits, payroll taxes, pensions and paid time off.
"With economic uncertainty on the horizon, investing in permanent staff can be expensive and risky," said Sue Higgins Product Development Manager of Candidate Direct, an information technology company specializing in hospital vendor management. "Contingent workers minimize healthcare employer's obligation and exposure to labor laws, while affording staffing managers the flexibility they need to cost-efficiently downsize their workforce at any time without penalty."
Candidate Direct provides healthcare employers with web-based workforce management software to efficiently on-board and off-board travel nurses and other contingent staff. Real time reporting capabilities put essential analytics in the hands of managers to track applicants, documentation and evaluations. Positions can be posted fast and easy online and an optional bill rate feature saves another six percent on contingent staffing costs by enabling nurse staffing agencies to submit candidates below bill rates posted by employers.
"One health system posted an hourly cap for an Occupational Therapist at $64," said Higgins. The employer awarded the position to an agency that submitted a qualified candidate for $62 an hour, saving the employer $6,000 on a single candidate when annualized."
Though cost as is a major factor in staffing decisions, nurse quality and performance are the primary reasons why hospitals are supplementing nurse staffs with travel nurses and per diems.
"Over the years, traveling nurses are seen as having more experience. They're familiar with diverse patient populations, think quickly on their feet and adapt to new surroundings fast," Higgins said.
Lengthy time to fill rates and costly on-boarding of permanent staff resulting from attrition were additional reasons cited in the study for increasing travel nurse hires. In contrast to an average 65 days reported by hospitals to source and train a permanent RN, travel nurses are available almost immediately and require only a few days of orientation and training.
Analysts expect up to 81% of healthcare providers to consider some type of workforce management software in 2011, as a means to shave staffing spend, procure specialists quickly and fully manage contingent staffing programs at or below cost. Candidate Direct hospital vendor management requires no investment in software or hardware and in just a few clicks managers can produce analytical reports for stakeholders in real time utilizing a single interface.
Candidate Direct can help to manage existing staffing partners and at the same time allow healthcare employers to tap into new local, regional and national staffing agency resources. Candidate Direct saves time, money, aggravation and can significantly improve the quality of nurse staff.
"As healthcare providers usher in a new era of low readmission rates, high patient safety standards and improved bedside care, hospitals can't afford to be short on staff," Higgins said. "A fully configurable Vendor Management System can streamline recruiting efforts, process temporary staff quickly and grant healthcare employers access to a steady supply of highly-skilled travel nurses and per diems at competitive rates."
About Candidate Direct
The Candidate Direct staffing solution is utilized to source, recruit and procure permanent and contingent staff. We provide a full array of web-based software, providing large health systems and independent practitioners with basic applications to streamline and automate tasks such as position posting, applicant and workforce tracking. The Candidate Direct platform of services provides a single point of contact to monitor vendor compliance, candidate screening and credentialing information. Candidate Direct is web-based and requires no purchase of hardware or software.
*2011U.S. Hospital Nursing Labor Costs Study. The KPMG Healthcare and Pharmaceutical Institute
###