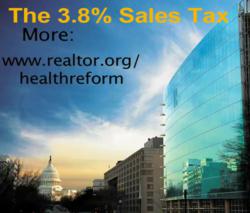 Nobody likes taxes, and this tax was inserted into the legislation at the 11th hour as a "pay-for," that is, as a revenue generator to help offset some of the costs of the reform. It's expected to generate $325 billion over eight years. ~ Robert Freedman
Minneapolis, Minnesota (PRWEB) August 24, 2012
Homeowners are wondering if they will be affected by the new Healthcare Law with a 3.8 percent home sales tax surcharge. After emails making rounds again that contain too few details, Destiny Homes has worked to sort rumor from fact and try to help simplify the complicated topic.
Here are the facts, helpfully separated out from rumor, as quoted from RE/MAX Results:

The new tax would only apply to single taxpayers with a modified adjusted gross income (MAGI) in excess of $200,000 and married taxpayers with a MAGI in excess of $250,000 if filing a joint return, or $125,000 if filing a separate return.
The tax is equal to 3.8% of the lesser of the taxpayers' "net investment income" or the amount by which their MAGI exceeds the threshold amount.
Under Sec. 1411(c)(1)(iii), net gain attributable to the disposition of property (other than property held in an active trade or business) is subject to this tax. That means taxable gain on the sale of a personal residence in excess of the Sec. 121 exclusion amount would be included. Sec. 121 provides that taxpayers may exclude up to $250,000 ($500,000 for joint returns) from the gain on the sale or exchange of a principal residence provided they meet certain ownership and use requirements.
Only taxpayers with MAGI over $200,000 (or $250,000 if married filing jointly) who sell their principal residence and realize more than $250,000 in gain ($500,000 if married filing jointly) will be subject to the 3.8% tax and only on the amount of gain they realize over the Sec. 121 threshold (and on their other net investment income).
On July 25, 2012, http://www.politifact.com offered the following explanation to help simplify the complicated law into terms more concerned citizens could understand. "The distortion sprouted from Section 1402 of the Health Care and Education Reconciliation Act of 2010, titled "Unearned income Medicare contribution." Legislative wonks might remember that this was the second part of the health care bill, passed via reconciliation so that it only required 50 votes. Democrats had to do it that way after they lost their 60-seat majority due to a special election for the U.S. Senate in Massachusetts. It is a new tax, but it's not on real estate transactions."
Looking to our real estate leaders, A post on Trulia's website on July 21, 2012 is titled, ".8% Home Sales Tax as of January 1, 2013? Yes, it's true," and then cautions readers, "But get the facts". Another Trulia post four days ago provides many answers and then summarizes with, "The 3.8 percent levy can be confusing, and it can bite deeper when your taxable capital gains are far larger or you sell a vacation home or a piece of rental real estate, where all the profits could subject you to the investment surtax. Definitely talk to a tax professional for advice on your specific situation."
The National Association of Realtors (NAR) offers some good advice that practical people can put into practice nearly ever day: "Don't believe everything you read". The NAR offers a video called "The 3.8% Tax Is Not a Real Estate Transfer Tax" by By Robert Freedman, Senior Editor, REALTOR® Magazine that is easier to following for many over reading legal copy. Additionally, NAR Director of Tax Policy Linda Goold gives several clearer answers to dispel the confusion.
NAR offers a brochure to download that is well written in plain language, "The 3.8% Tax Real Estate Scenarios & Examples". Here is a brief clip:
The new home sales tax law applies to:

Individuals with adjusted gross income (AGI) above $200,000
Couples filing a joint return with more than $250,000 AGI
Types of Income:

Interest
dividends
rents (less expenses)
capital gains (less capital losses)
Formula: The new tax applies to the LESSER of:

Investment income amount
Excess of AGI over the $200,000 or $250,000 amount
Destiny Homes recommends citizens read the full details. On May 7, 2010 the GOP posted considerable detail about the healthcare reform and its bundling home sales tax into a mix of key components of concern in the legislation.
Smart Money says, "Yes, and it (Real Estate Transaction Tax) is historic because it adds a progressive element to what has always been a flat tax. The change raises the Medicare tax by 0.9% (from 1.45% to 2.35%) on wages and self-employment income above $250,000 ($200,000, single). Unlike Social Security taxes, the Medicare tax is uncapped. The new levy has no deductible component for self-employed taxpayers. The new rules present big challenges for taxpayers. But if you start thinking about them now, at least you can minimize the damage".
Destiny Homes works closely with homeowners as a builder and home remodeler in the Twin Cities servicing clients who may well fall in the category of citizens impacted by the Real Estate Transaction Tax. Call us at 952-934-5706 for help with home renovations or with questions.