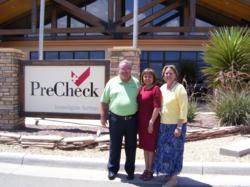 PreCheck is committed to continue our partnership with the State of New Mexico, Otero County and the City of Alamogordo.
Alamogordo, New Mexico (PRWEB) June 18, 2013
Healthcare-exclusive background screening firm PreCheck, Inc. welcomed New Mexico Governor Susana Martinez to its Alamogordo operations offices on Thursday, June 13, 2013. Gov. Martinez was joined by Jon Barela, Economic Development Cabinet Secretary of the Otero County Economic Development Council, for the purpose of celebrating three businesses that have positively impacted the Alamogordo economy in recent years. The Economic Development Council's Director, Mike Espiritu, was also in attendance along with representatives from the other businesses being honored. During her speech, Gov. Martinez thanked PreCheck for the jobs brought to Alamogordo and spoke of her continuing commitment to the economic development of New Mexico.
PreCheck's Chief Executive Officer, Glenn Woolsey, is responsible for the decision to initially bring PreCheck's operations to New Mexico. During the governor's conference, Mr. Woolsey acknowledged the great workforce present in Otero County and addressed the background screening firm's plans for continued growth in Alamogordo. The company has partnered with the Job Training Incentive Program Board and the State of New Mexico to increase the staff of their Alamogordo location.
"We are honored to have Governor Martinez at PreCheck's offices and are humbled by her presence," stated Kim Carr, PreCheck's Vice President of Community Development. "We are committed to continue our partnership with the State of New Mexico, Otero County and the City of Alamogordo to bring jobs that support the enduring growth of our New Mexico business operations."
Gov. Martinez has been a supporter of PreCheck and other businesses in New Mexico. In 2011, her administration was helpful in enabling the background screening firm to maintain several jobs that would have otherwise been transferred to Texas due to burdensome licensing hurdles. PreCheck, who is currently celebrating 20 years of exclusively serving the healthcare industry's background screening and credentialing needs, plans to continue expanding its New Mexico staff.
About PreCheck, Inc.
Founded in 1983 as a private investigations firm, PreCheck, Inc., has focused exclusively on serving the healthcare industry since 1993. PreCheck serves over 2,500 hospitals, long-term care facilities, clinics, educational institutions, and other ancillary healthcare organizations, across the U.S. PreCheck has evolved over time from a background screening provider into a turnkey outsourcing solutions provider, offering a full suite of background screening, compliance, and credentialing solutions all designed to help its clients adhere to the ever-changing laws and regulations governing the healthcare industry. PreCheck has achieved accreditation by the National Association of Professional Background Screeners (NAPBS) Background Screening Credentialing Council (BSCC).