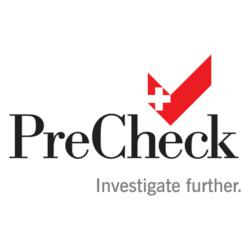 We put a great deal of thought and review of [our clients'] feedback into what they can experience today.
Houston, Texas (PRWEB) June 27, 2013
PreCheck, Inc., a leading background screening firm exclusively serving the healthcare industry, announces today it has released several enhancements to its core background check online client portal. The company's PreCheck™ and PractitionerCheck™ clients have access to the improved user interface and new features, allowing employers easier access to the information they need for their hiring processes. The new features of the release include a redesigned home page, multiple pre-defined quick links to the most common filter options, expanded search criteria and advanced search filter capabilities, as well as enhanced visual cues for monitoring the status of background check reports. In addition to these valuable enhancements, PreCheck has integrated its Drug Screening solution into the background screening client portal. Clients now have the ability to view status updates and drug screening results in a profile-centric user interface, accommodating both background and drug screening solutions.
PreCheck's President and Chief Operating Officer, Zach Daigle, declared 2013 the "Year of the Client," and the current enhancements release is one of several efforts being made to impart positive change to clients and their interaction with PreCheck. An update for the company's StudentCheck™ portal is also planned for the end of 2013 or early 2014.
"We are very excited to announce the release of the enhancements to our client access portal," stated Dana Sangerhausen, Director of Operations at PreCheck. "Our clients have spoken and we have truly listened. We put a great deal of thought and review of their feedback into what they can experience today. This is only the beginning for our clients."
In 2013, PreCheck is celebrating 20 years of exclusively serving the healthcare industry's unique background screening needs. With this release, the company remains committed to providing a superior client experience. PreCheck's product enhancement road map through 2014 includes enhancements for StudentCheck™, SanctionCheck™ and CredentCheck™ as well. For more information about PreCheck's background screening solutions for healthcare employers, call 866-402-9343 or visit http://www.precheck.com.
About PreCheck, Inc.
Founded in 1983 as a private investigations firm, PreCheck, Inc., has focused exclusively on serving the healthcare industry since 1993. PreCheck serves over 2,500 hospitals, long-term care facilities, clinics, educational institutions, and other ancillary healthcare organizations, across the U.S. PreCheck has evolved over time from a background screening provider into a turnkey outsourcing solutions provider, offering a full suite of background screening, compliance, and credentialing solutions all designed to help its clients adhere to the ever-changing laws and regulations governing the healthcare industry. PreCheck has achieved accreditation by the National Association of Professional Background Screeners (NAPBS) Background Screening Credentialing Council (BSCC). http://www.precheck.com