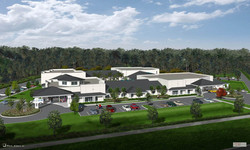 Ocala, FL (PRWEB) July 22, 2010
The Lutz Care and Rehabilitation Center is a 120 bed, 55,000 square foot skilled nursing facility with a construction value in excess of $10.5 million. Smart building automation, class A finishes and amenities and spacious living quarters are features that provide superior quality for the end user.
The project will be built in Lutz, Florida. Plans and specifications were prepared by O'Keefe Architects. Financing originated through Love Funding in conjunction with the HUD Lean 232 program. This project is the first in the United States to incorporate the HUD Early Start Program which allows for sitework and structural components to commence before the loan has closed. To date J. McLauchlin & Company has completed 95% of all sitework, underground utilities, foundations, mechanical and electrical rough-ins and slab on grade. The project is scheduled for completion in the second quarter of 2011.
The development is owned by 19091 RE Investments, LLC. and operated by Palm Health Partners with corporate offices in Jupiter, FL. Palm Health Partners is a leading senior community provider dedicated to providing first class environments for their residents and caregivers.
About J. McLauchlin & Company
J. McLauchlin & Company and our affiliates are leaders in the construction and design of ambulatory surgery centers with over 300 facilities in our portfolio. Established in 1986 and located in Ocala, Florida, J. McLauchlin offers complete client services from initial planning, acquisition and budgeting through construction and licensure. J. McLauchlin & Company is also a leading contractor and design builder for other medical facilities including hospital renovations, diagnostic and imaging facilities, radiation therapy centers, assisted living facilities, skilled nursing and medical offices.
For more information about this project or J. McLauchlin & Company please contact:
Dean Blowers, President
J. McLauchlin & Company
352-873-3900
McLauchlin.com
###