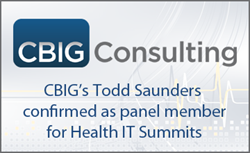 Chciago, IL (PRWEB) April 29, 2014
Big data analytics consulting firm CBIG Consulting has confirmed that Todd Saunders, Principal and General Manager of CBIG's Western Region, will take part in two of iHT2's 2014 Health IT Summits later this summer, in Denver, CO July 22-23, 2014 and in Seattle WA, August 19-20, 2014. iHT2 (Institute for Health Technology Transformation) hosts a series of educational events each year in over ten U.S. cities, focusing on incorporating advanced IT solutions to promote improvements in the quality, safety, and efficiency of health care, with the ultimate goal of providing better patient outcomes.
As in past years, in 2014 iHT2 attendees are expected to include C-level physicians, practice management and IT decision-makers from North America's leading provider organizations and physician practices. Saunders said his inclusion as CBIG's representative panel member reflected both his commitment to continuing education and his growing body of groundbreaking work at CBIG involving healthcare data analytics solutions—including healthcare-centric, big data architectures—that help healthcare providers successfully navigate and support the evolving healthcare marketplace in the U.S.
In Denver, Saunders will share his expertise and experience at the Wednesday, 9:00 am session on July 23, "Population Health Management: Enabling the Success of ACOs." In Seattle, Saunders will take part in Tuesday's 4:10 panel on August 19, "Transitioning from Volume to Value: Leveraging Analytics to Support Population Health." Interested participants for the Denver session can go to http://ihealthtran.com/denverhome.html for more information. The website for those who plan to attend the Seattle event is http://ihealthtran.com/seattlehome.html.
About CBIG Consulting (CBIG):
CBIG Consulting is an international team of experts in Data Warehousing, Business Intelligence, Big Data Analytics, and Cloud-based Analytics platforms. Selected by independent research firm SourcingLine as well as CIO Review as a leading big data analytics consulting firm, CBIG consultants average fifteen years of direct experience in the field. CBIG works with global enterprises, mid-size businesses, and non-profit organizations in solving mission-critical reporting and analytical needs. CBIG is headquartered in the Chicago, IL area, and has additional offices in San Francisco, CA, Boston, MA, Denver, CO, Austin TX, Raleigh, NC and Sydney, New South Wales, Australia. For more information, please visit http://www.cbigconsulting.com.