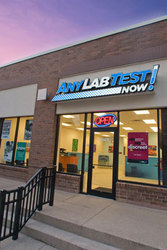 Alpharetta, GA (Vocus) April 13, 2010
ANY LAB TEST NOW®, the first nationwide direct-access lab testing franchise, was recently named the second-fastest growing franchise by Franchise Times magazine's "The Fast 55," an annual ranking of the top selling franchises. With over 95 locations opened since late 2007, the company offers a unique, customer-centric lab testing experience that empowers individuals and businesses to manage their health and wellness through affordable and convenient lab testing.
Franchise Times magazine, the nation's top publication devoted exclusively to the franchise community, has worked together with FRANdata for the last seven years to publish "The Fast 55" ranking of the fastest growing franchises. According to the April 2010 edition, the magazine has made a "few brilliant observations" including, "Health care is important." The magazine concludes that the health and fitness sector has consistently placed the most companies on "The Fast 55," including ANY LAB TEST NOW®.
Number two on "The Fast 55:" Any Lab Test Franchising, Inc., franchisor of the ANY LAB TEST NOW® brand. The company has experienced an average unit growth rate of 1384.62% from 2004-2008. The magazine only compares companies that have been franchising for five or fewer years and show consistent positive unit growth during that period.
"Healthcare is radically changing in this country and ANY LAB TEST NOW® is at the forefront of this change. Our growth over the last two years is proof that consumers and businesses are demanding an affordable, convenient and customer-focused approach to lab testing and healthcare overall," said Joe Neely, chief executive officer of ANY LAB TEST NOW.
ANY LAB TEST NOW® offers thousands of medical lab tests including wellness, DNA, sexual health and other innovative, comprehensive tests affordably and conveniently, without the need of insurance or an appointment. Each location works with local physicians to give their self-pay, under-insured and other patients' greater access to more cost-effective lab testing. Test results are given typically within 24-48 hours in an easy-to-read sheet that gives customers' and their doctors more information on how to treat, prevent and manage certain conditions. All tests are performed by a friendly medical professional skilled in collecting specimens.
ANY LAB TEST NOW also offers Employer Solutions to businesses including pre-employment and random drug testing programs, background checks and lab-based wellness programs. Occupying approximately 1,000 square feet, each ANY LAB TEST NOW® store is located in the heart of retail centers throughout the United States. The company has completed franchise agreements in 36 states from Arizona to Washington, New Hampshire to Florida, and several states in-between as well as Canada.
For more information about ANY LAB TEST NOW franchise opportunities, please visit http://www.anytest.biz.
# # #