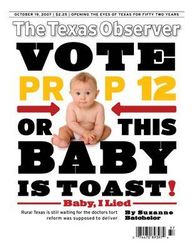 Austin, Texas (PRWEB) October 22, 2007
The most recent edition of The Texas Observer says that insurance and medical interests spent millions in 2003 successfully urging voters to pass Proposition 12, a constitutional amendment that limits the amount of money patients or their survivors could recover in medical malpractice lawsuits. Proponents claimed that greedy lawyers were besieging doctors with frivolous lawsuits that were causing malpractice insurance rates to skyrocket and doctors to flee the state. The campaign's promise, that tort reform would bring doctors to sparsely populated regions, has now been tested for four years. It hasn't turned out that way. Baby, I Lied -- How Tort Reform Failed
Feature -- Superfun with Superfund A Guide to Houston Area Superfund Sites
Houston is known for many things: opera, oil, obesity. But one of its outstanding attributes has gone almost unnoticed: Harris County's Superfund sites -- toxic waste dumps so malignant that the Environmental Protection Agency has made their cleanup a national priority. The most any other county in Texas has is three. Harris County boasts eleven. The sites are little known except to Houston's poorest residents, who often live nearby. The Observer reveals their secrets with this handy guide.
Editorial -- Willful Injustice The Texas Forensic Science Commission Remains an Empty Shell
The cell doors sprang open for Ronald Taylor on October 9, after he had served 14 years for a crime he didn't commit. Ironically, a state agency already exists that -- had it been funded and staffed -- could have aided Taylor. The Legislature established the Texas Forensic Science Commission in 2005 to oversee the state's crime labs, and investigate claims of innocence and forensic misconduct. Two-and-a-half years later, the commission remains an empty shell.
Political intelligence -- SELL OUTS
The Shortage of Parklands
War On Christmas
The state-owned Christmas Mountains in Big Bend country are for sale. General Land Office Commissioner Jerry Patterson believes the territory would be better off in private hands -- as long as those hands can clutch a gun. If Texas is looking to the land office to solve its dire shortage of public parklands, it's gazing in the wrong direction.
Kinky On Special
Every few months, Kinky Freidman blows through Austin hawking a fresh batch of wares, but the same tattered charm is starting to feel a bit desperate. Kinky was back at BookPeople on October 9 to sign copies of his latest book, a reflection on his run for governor in 2006.
Border Fencing
On September 24, U.S. Customs and Border Protection and the Army Corps of Engineers published the first map detailing the course of a proposed fence along the Texas-Mexico border. Given only 21 days to submit public comments, locals scrambled to detail potential damage to communities, tourism, wildlife, the local economy and border culture. The Odd Couple State Sen. Kirk Watson of Austin and Rep. Warren Chisum of Pampa had ample material for teasing each other as they addressed a group of Meals on Wheels supporters. The fundraiser celebrated House Bill 407, sponsored by Watson and Chisum, which gives $20 million in state funding to organizations that provide meals to elderly or disabled people. Battle Of Goliad The new fiscal year finds the folks in Goliad County waiting for the Texas Commission on Environmental Quality to decide whether Uranium Energy Corp. will be permitted to mine in the area. But thanks to the county's new budget, their legal guns are loaded.
Books & the culture -- The Conundrum in Caracas On Hugo Chavez
In Hugo Chávez: The Definitive Biography of Venezuela's Controversial President, Cristina Marcano and Alberto Barrera Tyszka take on the complex personality of a man who emerged from relative obscurity to become one of Latin America's most influential and controversial leaders. Review by Susana Hayward.
Books & the culture -- Elements of Style http://www.texasobserver.org/article.php?aid=2612
Josh Rosenblatt looks at The Braindead Megaphone, George Saunders' first foray into nonfiction after a decade of best-selling short-story collections and novellas. Once again, Saunders focuses on the issues of consumerism, societal alienation and failures to communicate. This time, however, his approach is full of optimism and prescriptions for better living.
Afterword -- Dia De Lost Muertos Lite
http://www.texasobserver.org/article.php?aid=2613
Although Christine Granados grew up in El Paso, she always thought Halloween was about candy and costumes. After getting the lowdown on the graveyard parties of Dia de los Muertos in a bar, she wonders if her Catholic friends get the better deal.
And, of course, Jim Hightower's column, poetry and more ...
To support The Texas Observer Donate Now
###