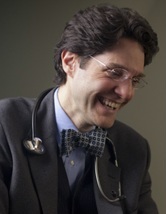 Visits grew to several thousand per month, and my blog currently has over 15,000 page-views per month
Minneapolis, Minnesota (PRWEB) January 18, 2013
Stuart's "Interview with Dr. Russell Faust on Healthcare Social Media" reveals how Doctors are learning both the importance and necessity of participating in social media.
Stuart begins the interview by asking Dr. Faust, "How long have you been active with social media?" Dr. Faust goes on to explain how he began to notice his patients were diagnosing themselves through internet searches and that their self-diagnosis was wrong, therefore Dr. Faust felt the need to get more involved with the new social media world to help educate his patients when they aren't physically in the office.
Dr. Faust realized immediately that there's a learning curve as to becoming savvy within the social media world and how there're so many alternatives to choose from, the Doctor questioned what would be the right media mix? After stumbling through the multiple options available, the Doctor figured it out by creating his own site boogordoctor.com was the necessary first step.
Stuart then asked "What was appealing about involving yourself with social media?" Doctor Faust learned that social media is a necessary extension of his office. Social media allows the Doctor to interact with his patient outside of his office so that when they do need to make an appointment the patient can be diagnosed quicker, experience a shorter time in the clinic so that the patient can return to work or home and when the patient does leave and inevitably forgets to ask all of the questions he/she wanted to ask, they could get hold of Dr. Faust easily and get the answers they neglected to receive when they were in the office.
Digital Solutions, Inc. out of Minneapolis hosts the MDWebpro Blog and suite of applications helping doctors across the United States and abroad better utilize and measure inbound marketing. To learn more about MDWebPro or Digital Solutions, Inc. visit MDWebPro.com or call 800-941-0378.