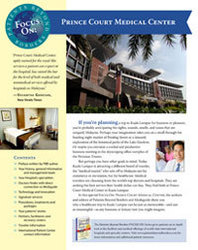 We are excited to be participating in this dynamic new program
Chapel Hill, NC (Vocus) February 17, 2010
Patients Beyond Borders, the first consumer reference guide for medical tourism, is pleased to announce the release of FOCUS ON: Prince Court Medical Center (PCMC), profiling one of Malaysia's leading private healthcare facilities. FOCUS ON: PCMC addresses Prince Court's myriad signature and concierge services, including its top four specialties: heart and lung, oncology, cosmetology, and urology.
One of the newcomers and rising stars in Asian healthcare, the 300-bed, Petronas-owned PCMC is one of only five full service JCI-accredited hospitals in Malaysia. While principally serving citizens of Malaysia, Prince Court also serves the medical traveler, and has welcomed more than 7,000 international patients since opening its doors in 2009.
Healthy Travel Media's new FOCUS ON: series features a 30-page, full-color, digital brochure and eBook, highlighting the world's leading, internationally accredited hospitals and specialty centers in a fully searchable and dynamic consumer-friendly format. Published under the Patients Beyond Borders brand, the series offers health consumers detailed information on specialties, procedures, costs, and travel planning from the most recognized, trusted information source in international medical travel.
FOCUS ON: PCMC will be accessible from a variety of sources, including the Patients Beyond Borders Web site, Prince Court's Web site, third-party Web sites, Kindle and other eBook readers, iPhone and other mobile devices, medical, business, and reference libraries worldwide, and all popular social networks.
"We are excited to be participating in this dynamic new program," says Stuart Rowley, CEO of PCMC. "This format will allow us to creatively promote our facility to the international traveler with up-to-date, interactive information on our medical specialties, pricing, and signature services."
"With clear, current information on specific procedures, providers, packages, and pricing, healthcare consumers will have worldwide access to detailed information at their fingertips, "says Kate Johnson, Focus On Project Manager for Patients Beyond Borders. "Our new series is designed to assist the international patient at or near the decision stage of health procedure planning, and we are pleased to have Prince Court Medical Center as our first participant."
About Prince Court Medical Center
Prince Court Medical Center is a private healthcare facility located in the heart of Kuala Lumpur, Malaysia. Owned by Petronas, the giant Fortune 500 oil company, this revolutionary, modern facility is JCI-accredited and licensed by the Malaysian Ministry of Health. Their Centers of Excellence offer a wide range of services, solutions, and technology in every specialty ranging from diagnostics to rehabilitation in five-star surroundings.
Prince Court Medical Center
39, Jalan Kia Peng
Kuala Lumpur, Malaysia 50450
Email: ibl(at)princecourt(dot)com
Tel: +603 2160 0000
About Healthy Travel Media
Healthy Travel Media, an independent imprint based in Chapel Hill, NC, publishes books, eBooks, and online information on medical, health, and wellness travel. Its flagship international title, Patients Beyond Borders, now in its Second Edition, is the leading consumer reference guide for medical tourism and is filled with authoritative, accessible advice. Specialized editions have been published for Singapore, Korea, Taiwan, Malaysia, Thailand, and Turkey. The Patients Beyond Borders series is available through booksellers everywhere and is distributed to the retail trade by Publishers Group West (http://www.pgw.com).
For more information or media queries, please contact:
Judy Orchard
Tel: +1 919 545.0668
Email: jorchard(at)patientsbeyondborders(dot)com
Web: http://www.patientsbeyondborders.com
Qualified members of the media are invited to request a review copy; please contact jorchard(at)patientsbeyondborders(dot)com.
###