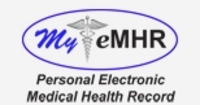 Evansville, IN (PRWEB) March 12, 2010
ICUcare, LLC has released the first free national personal health records (PHR) system. Called My eMHR Web Portal, this personal electronic medical records system was developed and implemented to: One, keep medical records private and in the hands of the individual; two, keep medical errors, which account for the majority of deaths in America, to a minimum; and three, offer improved medical care and lower national healthcare costs through more effective management and sharing of health care records.
The My eMHR web portal system is a resource that allows every American with access to the internet to enter their personal demographic and medical history information into a HIPAA compliant medical PHR system on either a hosted or non-hosted basis. The uses of this technology are endless, and their impact cannot be minimized: Having this information accessible can mean the difference between life and death. Some identified uses include:

Vaccination records, allergies, medical histories, and other vital information about children can be given to the schools by the parent
Elderly parents, friends, or relatives can provide access to the records for doctors and other caregivers
Foreign exchange students will have a reference for their medical history in the event of an emergency or for care while abroad
Access to this information when seeing a specialist or changing providers
This is by no means a comprehensive list, and more uses are constantly being found.
"The value of having your medical history available in an emergency situation can mean the difference between life and death in a worst case scenario, or simply prolonged recovery in other situations. The value of 'information' about your allergies, what medications you're taking, past surgical procedures you've undergone, past or present illnesses you've been diagnosed with, or simply relevant issues about your family's history are all vital pieces of information that care providers need to know," points out Robert Higgs, President of ICUCare, LLC and engineer of My eMHR.
He goes on to detail the value of the objectives and the inherent errors in the design and implementation embodied in the HITECH Act, a key component of the American Recovery & Reinvestment Act (ARRA). This is known by most Americans as the stimulus bill of 2009. Additionally, this Act will potentially allow medical records to be sold to other outlets. Some facts that Higgs points to:
The ARRA Bill was 778 pages in length and authorized $787 billion in spending.
The ARRA Bill was written, passed by both houses of Congress and signed by the President all in less than 14 days, hence begging the question: did any of our legislators ever have the time to read and understand what was in the bill prior to passage?
The facet of the Bill known as the HITECH Act, which addressed changes to the National Health Care System, was 206 pages in length or roughly 26%.
National health care expenditures are projected to reach $4.4 trillion in 2018, up from $2.2 Trillion in 2007.
More information about the ARRA Bill and details concerning national health care can be found on the ICUcare website.
"We at ICUcare, LLC believe in empowering people with choices. No one knows, especially the bureaucrats in Washington, 'what's best for the people.' We'll be in far better shape as a nation when the politicians in Washington learn to trust the very people that voted them into office. As long as we still have the right to vote, we should also have the right to manage the most important areas of our lives: faith, family, finances, and our well-being (personal medical records)," states Higgs.
Learn more by visiting ICUcare.com.
About ICUcare, LLC:
First to develop and market a turn-key telemedicine and EHR system and the first provider of a free hosted personal health records system. ICUcare LLC was founded by CEO and President Robert E. Higgs. ICUcare LLC develops and deploys patient-centered advanced technological solutions.
###