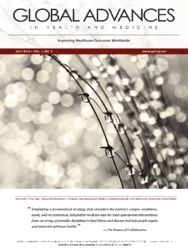 " Global Advances and Bravewell share a synergistic mission of improving patient outcomes. The Bravewell Collaborative should be commended for taking a leadership role in identifying key contributors to patient care," said David Riley, MD, Editor in Chief
Portland, OR (PRWEB) August 06, 2012
Sponsored by The Bravewell Collaborative (http://www.bravewell.org), Integrative Medicine in America: How Integrative Medicine Is Being Practiced in Clinical Centers Across the United States provides current data on the patient populations and health conditions most commonly treated with integrative strategies.
In a survey of 29 U.S. integrative medicine centers, 75% reported success using integrative practices to treat chronic pain and more than half reported positive results for gastrointestinal conditions, depression and anxiety, cancer, and chronic stress.
"With chronic health issues costing the U.S. economy more than $1 trillion a year, it's essential to find the most effective ways to treat and prevent the most prevalent conditions," said Donald Abrams, MD, co-author of the report and professor of clinical medicine at the University of California San Francisco. "This report demonstrates how an integrative approach is being used to improve patient outcomes."
About GAHMJ
Global Advances in Health and Medicine (GAHMJ), an international, peer reviewed medical journal launched in March 2012, has three primary areas of focus: (1) global convergences in health and medicine, (2) whole systems approaches in healthcare, and (3) high-quality case reports. The Journal is published in digital and print formats and offers abstracts in Chinese, Spanish, and English. Content includes original research articles, case reports, editorials, and columns.
About GAHM LLC
GAHM, LLC, publisher of Global Advances in Health and Medicine, is a media company building collaborations with the global community of healthcare professionals and engineering a value chain integrated with its three business units: (1) Publishing and Broadcasting; (2) Conference and Collaboration Services, and (3) Data Management and Technology Transfer.