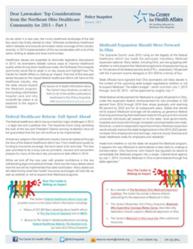 Cleveland, OH (PRWEB) February 05, 2013
As full implementation of healthcare reform approaches, uncertainty and skepticism remain about unanswered questions and the changes to come. The Center's January policy snapshot, Dear Lawmaker: Top Considerations from the Northeast Ohio Healthcare Community for 2013, outlines healthcare priorities on a variety of key issues.
Part one of this two-part series focuses on the impact federal healthcare reform will have on the healthcare industry, why the state should expand the Medicaid program, how funding cuts threaten hospital care and why nonprofit tax status is so essential to the region's hospitals.
This publication sheds light on regional healthcare priorities and offers useful information in a time of change in healthcare policy. A full list of The Center's publications can be found on its website along with a wide range of resources covering a variety of healthcare topics.
For a complete listing of policy snapshots, visit our http://www.chanet.org.
--
The Center for Health Affairs is the leading advocate for Northeast Ohio hospitals, serving those organizations and others through a variety of advocacy and business management services. The Center also works to inform the public about issues that affect the delivery of health care. Formed by a visionary group of hospital leaders 96 years ago, The Center continues to operate on the principle that by working together hospitals can ensure the availability and accessibility of health care services.