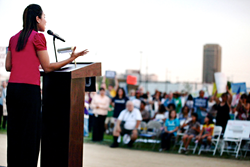 There are a lot of people in this position and something needs to be done about it and I'm really hoping that Obama takes control of the situation
(PRWEB) September 10, 2009
Los Angeles, CA After stops in Washington, New York and Las Vegas, former CNN anchor Veronica De La Cruz brought the tale of her brother Eric's tragic battle against health care red tape to their childhood home of California on Thursday at a Health Care Reform Now rally in Los Angeles State Park. But she is not stopping there.
Speaking alongside other people with real-life health care stories and local reform activists, Veronica De La Cruz shared an emotional account of how Eric De La Cruz was denied coverage by private insurers because his diagnosis was considered a pre-existing condition. Attended largely by pro-reform supporters, the event was sponsored by President Obama's grassroots group, Organizing For America, and served as a local send-off to get California's Congressional leaders back to work on a bill in Washington.
"By being here today, you are helping to ensure that our dream of a world in which everyone is entitled to affordable and accessible health care when they truly need it, is one step closer to a reality. So, call your Senator. Call your Representative. Demand that they vote to pass a real health care reform bill that includes a public option," De La Cruz told an energized audience.
De La Cruz, a former CNN anchor and internet correspondent who is now with the TV Guide Network, has said she is honoring her late brother with her public advocacy of health care reform. In addition to appearing at Thursday's event in Los Angeles, she recently spoke at rallies in Times Square and Las Vegas, where she introduced Senator Harry Reid. Reid, the Senate Majority Leader, was one of the policy-makers with whom she met during an August trip to Washington, D.C. to discuss the status of reform legislation and her brother's case.
This week, De La Cruz has also started another grassroots effort calling upon supporters to fax and email Eric's story to the White House, as well as to other Congressional offices. In just its first day, the initiative - promoted online and through word of mouth - has moved thousands of people to contact lawmakers in Washington on Eric's behalf. A website has been created at http://sites.google.com/site/faxericnow/ to help supporters get in touch with President Obama and their state's elected leaders.
"There are a lot of people in this position and something needs to be done about it and I'm really hoping that Obama takes control of the situation," De La Cruz told KTNV Channel 13 in Las Vegas prior to the President's address to the nation on health care. Veronica's interview and more details about her fight for reform can be found on KTNV's website at http://www.ktnv.com/global/story.asp?s=11104091.
In an effort to honor her late brother's memory, De La Cruz is currently scheduled to lobby for health care reform at other upcoming events around the country. Please visit http://sites.google.com/site/faxericnow/ for more information on the "Fax Eric" campaign. For questions regarding Veronica De La Cruz's campaign for health care reform, please call 888-880-4980.
Photos of Health Care Reform Now Rally in Los Angeles are courtesy of Belinda Berglof.
# # #