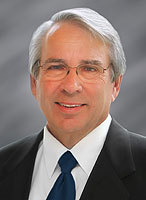 It appears that the medical staff of the future is going to be mostly employed, and that will create great opportunity to create integrated delivery systems and to take a fresh look at how we manage lots of diseases. -- James P. Reber
Alpharetta, GA (Vocus) April 7, 2010
Physician recruitment firm Jackson & Coker (http://www.jacksoncoker.com ) fosters timely communication among different segments of the medical community through social media initiatives and through interviews with healthcare executives, published regularly in the Jackson & Coker Industry Report.
"It is incredibly rewarding to be in a position that allows us to better understand the challenges faced by healthcare industry leaders today, and we are honored to be in a position to get their thoughts and opinions out to our readers," states Sandy Garrett, President of Jackson & Coker.
Recently, Mike Lynch, Senior Business Director with Jackson & Coker, interviewed James (Jim) Reber. Mr. Reber serves as Senior Vice President with Catholic Healthcare Partners and CEO with St. Rita's Medical Center, in Lima, Ohio. He addressed some of the crucial issues and fundamental challenges facing senior healthcare leaders during the current economic downturn and movement toward healthcare reform.
Here are some key insights and observations shared during the interview:

From a national policy standpoint, how medical resources are allocated is extremely important. This represents a multitude of challenges that informed healthcare leaders cannot avoid tackling.
To motivate the next generation of healthcare professionals, leaders need to exemplify a leadership style that is "authentic and transparent."
There will likely be a transition from a traditional, voluntary medical staff to an "integrated array of direct patient providers."
In fact, the integrated delivery system may become the model that dominates the healthcare industry in the near future.
One means of addressing the physician shortage is to create "physician joint ventures" with specialists that are in great demand.
In terms of healthcare reform, opening up access to quality medical care to the uninsured is a crucial priority, but not one that can be easily supported financially.
To best meet a hospital's staffing needs, a recruitment program that offers a consultative approach based upon reliable information is highly valued.
Physician compensation is a key consideration in successful recruitment and retention, but doctors' expectations must be tempered with realistic market considerations.
Managing a team of healthcare professionals who meet the needs of the community they serve is highly rewarding for any hospital executive.
Maintaining a sound vision and mission throughout hospital operations has a tremendous impact on the constituencies that the institution serves.
The entire interview can be assessed at http://www.jacksoncoker.com/physician-career-resources/newsletters/articles-surveys/JamesReber.aspx .
About Jackson & Coker
For over three decades, Jackson & Coker has been a leader in physician recruitment through the placement of physicians in both permanent placement and locum tenens physician jobs. The firm specializes in anesthesiology jobs, CRNA jobs, neurology jobs, psychiatry jobs, surgery jobs, primary care jobs as well as emergency medicine jobs. Headquartered in metro Atlanta, the firm has earned a reputation for providing cost-effective, time-sensitive solutions to both government and commercial health care organizations. The recruitment staff works in two divisions of the company: Permanent Placement Recruitment, which places physicians in over 40 medical specialties in permanent staff positions, and locum tenens, a staffing model that recruits medical providers (physicians and CRNAs) for temporary vacancies.
Jackson & Coker has earned a "Gold Seal" designation as a "Certified Health Care Staffing Service" by the Joint Commission and is affiliated with a credentials verification organization (JH CVO) that has received certification by the National Committee for Quality Assurance (NCQA) in ten out of ten credentialing elements.
Social media participation includes maintaining a corporate presence on Facebook, LinkedIn, YouTube and Twitter. The company also has separate Twitter sites for the main medical specialties it represents.
The firm also produces the online monthly Jackson & Coker Industry Report that offers timely articles, special reports, white papers, industry surveys and other matters of interest to the medical community at large. Here's the link to JCIR: http://www.jacksoncoker.com/physician-career-resources/newsletters/default.aspx .
The parent company of Jackson & Coker is Jackson Healthcare, both of which are located in brand new corporate headquarters built in Alpharetta, Georgia.
About Jackson Healthcare
Founded by the healthcare innovator Richard Jackson, Jackson Healthcare serves more than two million patients in nearly one thousand hospitals each year. The Jackson family of companies provides physician and clinician staffing, anesthesia management, hospital management and healthcare information technology solutions proven to improve clinical and financial outcomes, as well as increase operational efficiency. Jackson Healthcare has earned national media coverage for its physician polls and champions local and international charitable work. In addition, Jackson has been recognized as one of the fastest growing staffing companies in the country by the Inc. Magazine, Atlanta Business Chronicle, Georgia Trend and Staffing Industry Analysts. For more information about Jackson and its companies, visit Jacksonhealthcare.com Jackson's research reports are available at Market Research.
###