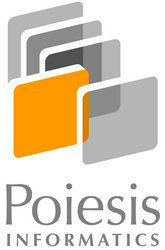 Poiesis solutions are built upon our keen understanding of clinicians' needs, and the Workflow Orchestration Suite directly addresses these needs by improving delivery of patient care and offering more flexible, vendor-neutral solutions.
Pittsburgh, PA (Vocus) November 16, 2010
Poiesis Informatics, a developer of healthcare IT workflow solutions, today announced the launch of its Workflow Orchestration Suite, a collection of modules developed to create an optimized workflow experience for radiologists and other healthcare providers. The four modules -- Catalyst™, Fluency™, Scout™ and Discover™ -- allow for the support of rich interoperability of healthcare systems and enterprise workflow.
The Workflow Orchestration Suite is built on an intelligent technology platform that can leverage existing or best-of-breed systems, and can connect these systems together for an optimized, context-specific user experience. The suites' modules, coupled with Poiesis' Professional Services offering, provide rich interoperability between disparate systems that contain critical information to support complex workflow models. Furthermore, the suite allows for the scaling of radiology groups across multi-site, multi-vendor environments with the authoring, productivity and communication tools needed to provide subspecialty, high-quality care.
The Workflow Orchestration Suite includes the following components:
Catalyst™, an intelligent, enterprise worklist, provides users with a consolidated view into multi-site, multi-vendor environments. Built on a robust technology framework and driven by industry standards HL7 and DICOM, Catalyst receives patient data from disparate systems, including EMR and RIS, to provide additional clinical content to build a complete patient history. Workload distribution based on customized business rules, advanced exam filtering and prioritization and other features of Catalyst enable radiologists to provide high-quality, subspecialty interpretations and maximized value to their patients.
Fluency™, a sophisticated speech-driven reporting and clinical documentation tool, leverages advanced Speech Understanding™ technology by M*Modal. The unique speech recognition technology works to improve accuracy and reduce corrections by continually understanding context and adapting to physicians' speech patterns. Additionally, M*Modal's industry-leading Speech Understanding™ technology turns physician dictation into structured, encoded and shareable data that can be used to generate alerts and other information needed to drive medical actions. Fluency supports embedding images of pertinent findings into the diagnostic report, a capability that improves efficiency and communication between radiologists and referring physicians.
Scout™, a comprehensive business analytics tool, provides robust statistical measures to monitor and improve efficiency at each phase of the radiology care cycle. Scout interactively explores data to gain insight into past and current performance, guiding users on future strategic planning. The tool recognizes trends, calculates forecasts and presents timely information in customized views of data that are geared to answer planned and/or unpredicted questions. Scout is also able to use proactive, rules-based monitoring and notification to anticipate potential failures before they occur.
Discover™, a clinical search and discovery tool, unlocks meaningful data stored in disparate healthcare systems. Capable of locating and displaying comparative radiology studies as well as the associated pathology report, Discover provides radiologists access to highly relevant and contextualized information that improves their value to patients and aids in critical decision making.
"With the current challenges that healthcare providers face of having to reduce costs while continuing to add value to patient care in a significantly more complex, demanding and competitive environment, I feel strongly that a fully optimized, integrated workflow will be the true differentiator in next generation solutions," said Claudine Martin, president of Poiesis Informatics. "Poiesis solutions are built upon our keen understanding of clinicians' needs, and the Workflow Orchestration Suite directly addresses these needs by improving delivery of patient care and offering more flexible, vendor-neutral solutions."
Poiesis will demonstrate the complete Workflow Orchestration Suite at RSNA 2010, November 28 – December 3, at booth #7021, McCormick Place, Chicago, Ill.
About Poiesis Informatics
Pittsburgh, Pa-based Poiesis Informatics develops healthcare IT solutions that orchestrate an optimized workflow experience through rich interoperability of healthcare systems, resulting in measurable improvements in workplace efficiency and quality of care. Their solutions are currently implemented within some of the nation's top hospitals, including Kaiser Permanente Northern California, Henry Ford Health System, University of Chicago Medical Center and University of Mississippi Medical Center. For more information, please visit http://www.poiesisinformatics.com .
Media Contact:
Emma Douglas
KNB Communications
203-504-8230 ext. 107
Edouglas(at)knbpr(dot)com
###