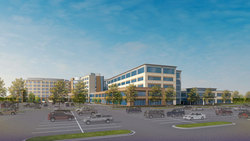 We're looking forward to late 2011 when the new MSB will open.
New Lenox, IL, and Denver, CO (Vocus) September 14, 2010
NexCore Group (NexCore) will break ground on a six-story, 182,000-SF integrated Medical Services Building (MSB) on the new Silver Cross Hospital (SCH) campus in New Lenox, IL, on Thursday, Sept. 23, 2010. A special ceremony will be held on Thursday, Sept. 16 at 6:00 p.m. on the grounds of the hospital's replacement campus currently under construction at the I-355/US Route 6 interchange in New Lenox. Part of the overall development of a $400 million, 76-acre replacement hospital campus, the MSB plays a key role in realizing the hospital's and physicians' vision of providing comprehensive, outpatient care to a service area that includes the tenth-fastest growing county in the U.S.
"Since the early stages of this project it has been clear that the MSB would play a vital role in creating a campus with highly integrated inpatient and outpatient services that will best serve this region. Now with a substantial number of leases already signed, it's exciting to see this important part of our replacement campus starting construction," says Bill Brownlow, CFO of Silver Cross Hospital. "We're looking forward to late 2011 when the new MSB will open."
Connected to the new hospital on three levels including the main lobby, the MSB will share many of the hospital's amenities including concierge, outdoor serenity garden, valet parking, and physician-dedicated parking. The new building is also connected to an adjacent medical office building through a shared lobby, easing movement of patients and staff across all buildings and facilitating the sharing of services. The MSB will feature a Walgreen's pharmacy through the shared lobby to enhance patient convenience.
The MSB will house 70,000 SF of hospital services on the two lower floors and 112,000 SF of physician office space on four upper floors. The four floors of physician space will provide more efficient office layouts and built-in technology expansion capabilities for practices moving from the old campus. New practices bringing complementary services not currently offered by SCH will also lease space in the MSB.
National healthcare real estate firm NexCore Group is providing strategic planning, financing, development, ownership, leasing, and property/asset management services for the project. The first of five projects set to begin between late 2010 and 2011, the MSB ground break is the culmination of deliberate preparation on the part of NexCore to position the company and their projects to move quickly upon signs of capital markets thawing. With healthcare reform passed, key debt and equity sources in this specialized financial sector have resumed funding projects with experienced healthcare developers who are able to meet new, stricter pre-leasing requirements. To meet these requirements, NexCore worked with the hospital and designers to incorporate proven medical office building strategies. The company also created pre-leasing incentives to attract physicians to the campus early and meet lenders' requirements for construction to commence.
Says NexCore president and CEO Greg Venn, "Working closely with SCH and the physician community, we have been able to generate significant excitement about the project and have exceeded our pre-leasing requirements to start construction of this important project. We anticipate substantial occupancy and stabilization by completion of the project 14 months from now, which will coincide with the opening of the hospital in early 2012."
About Silver Cross Hospital
Since 1895, Silver Cross has grown from a 33-bed, two-story hospital into an impressive healthcare network featuring a 289-bed acute care hospital with a team of 2,500 physicians, employees, and volunteers. Located in one of the fastest growing areas in Illinois—encompassing communities in Will, Grundy, and southwestern Cook Counties—Silver Cross is moving its hospital campus to New Lenox, IL, three miles from its current location, to enhance service lines at a strategic location accessible from several major transportation arterials. The replacement hospital will ensure that Silver Cross can continue its mission of providing quality healthcare to these communities over the next century.
About NexCore Group
NexCore Group delivers comprehensive healthcare real estate solutions for hospitals, healthcare systems, and physician partners across the U.S. NexCore and its principals have developed and acquired nearly 5 million SF of facilities and currently own and manage 1.8 million SF of healthcare real estate. NexCore is headquartered in Denver, with offices in Chicago and Bethesda. For more information visit http://www.nexcoregroup.com. Contact: Tracy Hindman, Marketing Director, 303-244-0700.
Fact Sheet
Project: Silver Cross Hospital Medical Services Building
Location: 1890 Silver Cross Boulevard, New Lenox, IL 60451 (at the intersection of I-355 and US Route 6)
Size: Six stories, 182,000 gross square feet
Construction Start: September 2010
Planned Occupancy: 4th Quarter 2011
Client: Silver Cross Hospital, Joliet, IL
Developer: NexCore Group LP, Denver, CO
Owner: The project is being financed and will be owned by NexCore Group in a joint venture partnership with its affiliate NexCore Healthcare Capital
Architect: RTKL, Chicago, IL
Contractor: Mortenson Construction, Elk Grove Village, IL
Property Manager: NexCore Properties LLC, Denver, CO
Asset Manager: NexCore Properties LLC, Denver, CO
###