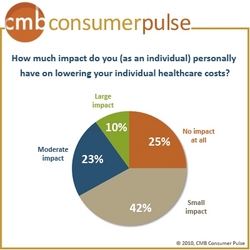 There is quite a bit of confusion around healthcare reform, yet our research shows that Americans expect this reform to impact them personally, they're just not sure how
Boston, MA (Vocus) September 16, 2010
A new study of over 1500 consumers looks at how Americans feel about Healthcare Reform and how it will impact them. The key findings show that while most consumers do not fully understand Healthcare Reform, they do anticipate it will have an impact on their lives. When it comes to lowering their own healthcare costs, however, most consider themselves helpless. The findings have been released in a free Healthcare Reform report available from Chadwick Martin Bailey and South Street Strategy Group.
"There is quite a bit of confusion around healthcare reform, yet our research shows that Americans expect this reform to impact them personally, they're just not sure how," says Amy Modini, account director, Healthcare Practice for Chadwick Martin Bailey. "Going forward, we see that people are expecting their insurance carriers to help clear up this confusion and be a trusted source of information."
With much of the coverage of Health Reform focused on increased costs to businesses and subsequently to their employees, the majority (67%) of consumers believe that they have little to no impact on reducing their own healthcare costs. While consumers feel that they do not have a major impact, 75% of consumers see health insurance companies as responsible for lowering health costs, significantly more than those pointing the finger at government agencies (46%).
"The confusion around Health Reform is both an opportunity and a challenge for Insurers to take a leadership role and become educators and trusted advisors for consumers to turn to," says Mark Carr, managing partner of South Street Strategy Group. "This is just the first of many challenges Health Reform will pose for carriers. As reform shifts a significant portion of the insurance market from a wholesale to a retail market, many insurers, who are largely B-to-B marketers, will need to develop new, more differentiated value propositions and go-to-market strategies."
Consumers' Understanding of Reform and the Impact
The study found while 30% consider themselves knowledgeable about Health Reform, half only consider themselves somewhat knowledgeable and 19% fully admit they don't know much at all when it comes to Healthcare Reform. Much of this confusion or partial understanding may be due to the perception that the media does not present the issues in an unbiased way (only 18% said that it is presented without bias).
Even with the confusion surrounding Health Reform, most people believe that reform will have an impact on their lives with 35% expecting a major impact on them or their family, 39% expecting a small impact, and 18% unsure of the impact they should expect. In fact, only 9% of those included in our research thought it would have no impact on them or their family.
About This Research
An executive summary report with additional findings from this study is available as a free download from Chadwick Martin Bailey and South Street Strategy Group. Data was collected from 1,504 adults (aged 18 and over) via a nationally representative online survey questionnaire within the United States by Chadwick Martin Bailey the week of August 23rd.
About Chadwick Martin Bailey
Chadwick Martin Bailey is a Boston-based custom market research firm who works with many of the most successful companies and best known brands in the world to help them acquire, maintain, and grow their customer base. They have recently been listed on the Honomichl Top 50 and continue to demonstrate their thought leadership at numerous conferences worldwide. Chadwick Martin Bailey focuses on using leading-edge research techniques to collect and translate the data into simple, business decision-focused deliverables. http://www.cmbinfo.com
About South Street Strategy Group
South Street is a strategy consulting firm that fills the gap in the world of consulting by integrating the best of strategy consulting and marketing science to develop better growth and value delivery strategies. Their methodologies are state-of-the-art and combined with strategic frameworks they deliver more powerful market insight. South Street Strategy Group is an independent sister company of Chadwick Martin Bailey. http://www.southstreetstrategy.com
###