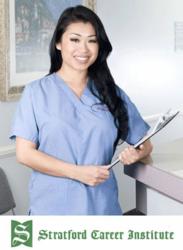 According the U.S. Bureau of Labor Statistics, ten of the twenty fastest growing career fields are health care related.
Scranton, PA (PRWEB) October 23, 2011
In response to an emerging need for trained health care workers, Stratford Career Institute has added a Health Care Aide training program to their list of medical career training courses.
Stratford's Health Care Aide program focuses on the introductory and fundamental components of a career as a health care aide. Four primary modules cover medical terminology, the roles and duties of the health care aide, basic patient care and safety, and additional health care concepts such as care of the elderly and home care.
"According the U.S. Bureau of Labor Statistics, ten of the twenty fastest growing career fields are health care related," said Dr. Claude Major, Director of Education for Stratford Career Institute. "We felt implementing a comprehensive Health Care Aide course could benefit our students by preparing them for a broad range of growing career opportunities in health care."
School officials say the course is designed to help students take the first step toward gaining entry level employment in a range of medical careers.
Similar to Stratford's popular high school diploma program, the Health Care Aide course is completed through guided, independent study. Students receive all of their books and study guides in the mail with qualified instructors available via e-mail and toll-free phone. Students can take their exams online or through the mail.
Stratford Career Institute currently offers eleven medical career training courses including: Dental Assistant, Fitness & Nutrition, Health Care Aide, Medical Billing Specialist, Medical Office Assistant, Medical Transcriptionist, Natural Health Consultant, Pharmacy Assistant, Physical Therapy Aide, Relaxation Therapist, and Veterinary Assistant.
Anyone interested in learning more about any one of Stratford's career training courses can request a free career information packet by calling 1-800-363-0058 ext 9980 or visiting the career school's website scitraining.com.
About Stratford Career Institute
Stratford Career Institute is a distance learning correspondence school that employs a distinct educational training method allowing students to complete their studies and earn their career diploma at home rather than spending hours in a classroom. Contemporary online tools combined with traditional correspondence education give students the flexibility to study when it is convenient for them.
Stratford Career Institute offers more than 60 distance learning courses in a variety of contemporary career fields as well as a high school diploma program.
###