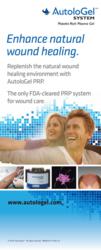 As the only FDA-approved system of its kind, AutoloGel offers both professionals and patients truly unique advantages. We are honored to work with Cytomedix to promote AutoloGel
Los Angeles, CA (PRWEB) May 22, 2012
Award-winning healthcare communications agency bryantBROWN Healthcare is developing the advertising campaign to promote the AutoloGel System for Cytomedix. AutoloGel is the only FDA-approved system for the production of autologous platelet-rich plasma (PRP) gel for use on a variety of exuding wounds.
Recently, PRP has been appearing frequently in the news, with reports of Tiger Woods, Rafael Nadal, Kobe Bryant, Alex Rodriguez, Hines Ward, Takashi Saito, Troy Polamalu, and other athletes receiving PRP treatment for sports injuries. In addition, PRP is being used in hair restoration, skin rejuvenation and related aesthetic procedures, and a wide range of other applications.
bryantBROWN delivers strategic and tactical planning, brand concepting, design, copywriting, web and digital programming, and additional services to support the marketing and advertising of AutoloGel. The goal is to market AutoloGel to healthcare professionals and patients.
bryantBROWN partner Bob Brown states, "As the only FDA-approved system of its kind, AutoloGel offers both professionals and patients truly unique advantages. We are honored to work with Cytomedix to promote AutoloGel."
For more information about all the advantages the AutoloGel System, please visit http://www.autologel.com.
For more information about all the benefits that advertising campaigns created by bryantBROWN Healthcare offer medical device manufacturers, pharmaceutical companies, biotechnology companies, hospitals, health information technology firms, and advocacy organizations, visit http://www.bryantbrown.com or call Bob Brown at (310) 406-2460, extension 101.
About bryantBROWN Healthcare
bryantBROWN Healthcare is an award-winning medical advertising agency that plans and implements strategic-driven promotional and educational campaigns for healthcare brands. For more than a decade, bryantBROWN has developed healthcare communications targeting consumer and professional audiences in all media—web, broadcast, and print—"everywhere in healthcare." bryantBROWN is online at http://www.bryantbrown.com.