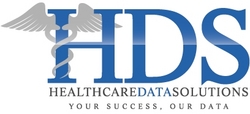 At HDS we realize that our customers expect the best available information to develop a strategic marketing plan. With this foundation, our customers will have market ready intelligence to mobilize quickly on the best opportunities
Foothill Ranch, CA (Vocus) March 10, 2010
Healthcare Data Solutions (HDS) has announced the addition of an AnalyticPRO division to their organization.
AnalyticPRO will be responsible for optimizing sales and marketing potential by using analytics to help uncover hidden customer information for their clients. The findings will help improve targeted responsiveness to ensure HDS clients direct and indirect marketing efforts result in increased revenue with less cost and better business decisions.
"At HDS we realize that our customers expect the best available information to develop a strategic marketing plan. With this foundation, our customers will have market ready intelligence to mobilize quickly on the best opportunities," states Sahar Rashidi Meyer, Manager of Analytics.
The AnalyticPRO services are to include but are not limited to:
1. Customer Database Warehousing
2. Customer Profile Report
3. Market Penetration by Specialty/State/Custom Territories
4. Custom Models – Acquisition, Cross Channel and Retention
HDS will have a team of specialists to help their clients analyze their customer base and utilize this information to fuel marketing, sales, support and service initiatives. The AnalyticPRO team will act as external consultants providing close partnership with their clients enabling them to achieve mutual goals.
Ms. Meyer went on to say, "The Go-to-Market approach has changed both for the direct and indirect marketing world. "Intuition" should no longer be the only approach used to pull leads. AnalyticPRO will utilize "intuition" and "Statistical Logic" to help drive more effective decisions."
For more information on AnalyticPRO or any other HDS product or service, please visit their website, HealthcareDataSolutions.com.
About Healthcare Data Solutions
Healthcare Data Solutions is an original source data compilation company focused on building and distributing Physician, Pharmacy, Dentist, Nurse and Hospital databases. HDS provides healthcare data, data processing, web services and new customer acquisition programs for leading healthcare marketing firms. With over 2 million healthcare provider profiles and 1 million healthcare provider emails, HDS is the fastest growing provider of sales and marketing Healthcare Data today. For more information, visit HealthcareDataSolutions.com.
###