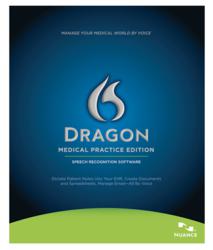 When physicians combine the power of Dragon Medical Practice Edition with their mouse, keyboard and microphone, they become 3-5 times faster than typing...
West Palm Beach, FL (PRWEB) July 24, 2012
Healthcare Information Technologies, LLC now offers Dragon Medical Practice Edition and Philips SpeechExec as part of a comprehensive and customized eHealth solution for physicians and other healthcare professionals. This integration is part of the expanded partnership between Philips and Nuance Healthcare that was recently announced in order to better integrate speech recognition with SpeechExec.
In today's constantly evolving healthcare IT environment, many physicians are challenged when it comes to navigating the new world of EMR / EHR (Electronic Medical Record / Electronic Health Record) management. Dragon Medical Practice Edition, the newest state-of-the-art speech recognition product from Nuance, can often help physicians bridge the gap between paper and digital practice management.
Dragon Medical Practice Edition offers the advanced ability to convert speech to text automatically and precisely with up to 99% accuracy (regardless of accent). When combined with the portability of Philips SpeechExec, users can dictate patient notes directly into a Philips recorder, iPhone, BlackBerry (Droid coming soon), iPad or other tablet as they move between exam rooms in the practice, in and around the hospital or on the go; providing unparalleled flexibility for mobile dictation. Clinicians don't have to be tied to their desk by a microphone, keyboard or dictation service! When ready, the recorder can be docked or messages can be forwarded from Smartphone or tablet and Philips SpeechExec will pull the audio file, Dragon Medical Practice Edition transcribes it and then saves the file as a Microsoft Word document for doctors or staff to open, edit and save (or placed in a chart within the EMR).
Healthcare Information Technologies is committed to being their clients' "long term speech recognition and transcription solution partners" by providing proven tools that make a meaningful difference in the physician's workflow. The team will work with a physician and practice staff not only on the implementation and training, but also in providing ongoing support, including "smart" configuration tools or creating custom macros and templates. It may also include further enhancing the medical vocabularies component with a practice's customized vocabulary and how to seamlessly input graphics such as charts, x-rays, diagrams or other pictures into a document using Dragon Medical Practice Edition.
This ongoing support further increases a physician's ability to easily navigate into and out of their EMR, thus saving time and creating both meaningful and professional looking documents, letters and other correspondence.
"When physicians combine the power of Dragon Medical Practice Edition with their mouse, keyboard and microphone, they become 3-5 times faster than typing," says Charles Pope, Managing Director of Healthcare Information Technologies, LLC. "They also can control their entire computer via Dragon Medical Practice Edition. Whether it's searching the Web or creating an Excel spreadsheet, anything a physician can do with their keyboard, mouse and computer, they can do with Dragon Medical Practice Edition."
Pope points out that, given what the average physician spends in transcription costs, Dragon Medical Practice Edition pays for itself in about 2-3 months. "Dragon Medical Practice Edition is HIPPA compliant, compatible with virtually every electronic medical record system, and can result in higher levels of reimbursment," he says. "For physicians who may complain about both the cost of their EMR and the loss of productivity, this speech recognition software is for them. It makes the adjustment to the EMR process much easier."
HIT's expertise is assisting physicians' with their transition to EMR and adopting those critical digital technology products and services that allow them to maximize workflow and patient care. Chuck provides a clear explanation of EMR and what it means for practices which can be viewed at: http://www.youtube.com/watch?feature=player_embedded&v=IKp8LPzNaq8.
For a growing number of medical practices, Dragon Medical Practice Edition has become an indispensable healthcare information technology tool. Enhancements to the software include an overall speech recognition accuracy of 99%, vocabularies covering nearly 60 medical specialties and subspecialties, and a significantly improved 'correction' function. Now partnered together, Philips and Nuance Healthcare answered the demand of many medical practices and clinics wanting to use the digital dictation workflow solution SpeechExec together with their Dragon Medical voice recognition system. HIT's clients can now count on the seamless compatibility and smooth integration of the two systems, thus allowing physicians and their staff to increase their productivity by completing their charting more quickly. For more information about the products and services offered by HIT, please visit http://emr-hit.com/DMPE/.
About Healthcare Information Techologies, LLC:
HIT is a leading Healthcare Consultancy. As eHealth Advisors to many Practices, Hospitals, Clinics, and Medical Societies, they are responsible for many of the technology solutions that their partners need; including strategy, selection, implementation, training and support.
HIT takes very seriously their commitment to providing all of their clients with all of the eHealth tools and resources they need for greater operational efficiency and increased level of patient care. HIT is a long term partner, dedicated to helping clients navigate the constant changes in healthcare IT by providing the best solutions available. Success is the only option.
For more information about the ehealth products and services of Healthcare Information Technologies visit http://emr-hit.com/index.php.
# # #