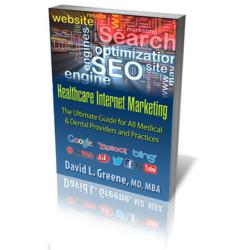 The book is over 400 pages and explains in layman's terms the roadmap to success with medical and dental internet marketing. Free copies to those receiving phone consults!
Phoenix, AZ (PRWEB) June 06, 2013
Award Winning medical and dental internet marketing firm, US Lead Network, has published a new book, The Ultimate Guide to Healthcare Internet Marketing. The e-book version is over 400 pages and the author is CEO David Greene, MD, MBA. Complimentary copies are available along with a no-cost 30 minute expert consultation on internet marketing services by calling (877) 791-6466.
For years, US Lead Network has been providing first-rate SEO and Web Design services to medical and dental practices. First page rankings are the norm within a few months, and the average web traffic increase is over 30% within six months.
Said Dr. Greene, "I owned a pain clinic in Phoenix, and with my internet marketing techniques 80% of our patients came from online marketing. That included blogging, articles, press releases, videos, landing pages and a small amount of pay per click. These are the same techniques my company uses today."
The book covers all aspects of internet marketing including website basics, on-page and off-page marketing, campaign planning and monitoring.
"Effective online marketing for a healthcare practice can take over 10 hours a week to do it well. The book lays out a roadmap for success in a comprehensive fashion, but in reality, most practices should outsource to a healthcare internet marketing firm like ours to get the best return on investment," added Dr. Greene.
Within a few weeks, "Healthcare Internet Marketing - The Ultimate Guide for All Medical & Dental Providers and Practices" will be available in over ten online stores for purchase including Amazon, Barnes & Noble and Sony. However, as mentioned, the book is available with a complimentary phone consultation with Dr. Greene. Call (877) 791-6466 for more information or visit http://usleadnetwork.net.