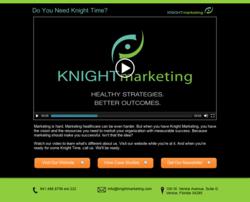 Sarasota, Florida (PRWEB) October 03, 2012
Knight Marketing, a national firm specializing in healthcare marketing, recently launched a marketing campaign of its own to generate sales leads within its vertical niche and demonstrate its ability to produce strong creative concepts in a "tradigital" campaign.
Combining traditional and digital channels, the campaign includes national direct mail, a landing page with an animated video and additional online communication. It showcases the firm's creative talents while using case studies featuring hospitals, medical supply companies, hospices and other Knight Marketing clients to communicate the firm's reputation for giving clients a strong return on their marketing investment. The concept was developed internally by the Knight Marketing team, and the video and landing page were produced in partnership with Digital Frontiers Media of Sarasota, Florida.
"We have done a lot of great work for our clients over the years and much of it is showcased on our website," said Tracy Knight, president of Knight Marketing. "With our own campaign, we wanted the opportunity to really stretch our talents and show clients as well as potential clients just how far we can take them."
The landing page is a responsive site that can be viewed on mobile devices, tablets and computers. Those receiving the direct mail can scan the postcard and go directly to the site. To visit the landing page, go to http://www.knightmarketing.com/knighttime.html.