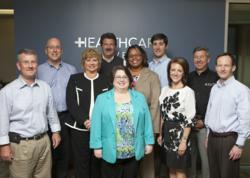 "Seeing the energy in the room of frontline care providers as they realized the potential of data to improve care was inspiring," Niall Brennan, Director, Office of Information Products and Data Analytics, Office of Enterprise Management, CMS
JACKSON, Miss. (PRWEB) June 02, 2013
The Healthcare Delivery Institute at HORNE LLP recently graduated the inaugural class of its Advanced Training Program (ATP) in Healthcare Delivery Improvement. The ATP provides course participants with the essential tools needed to improve healthcare value through process improvement and data-driven change. Course content includes improvement theory, understanding data, clinical integration and leadership skills.
"An unprecedented focus on quality, unsustainable costs and current legislation have created highly disruptive changes in our country's healthcare system. As a result, healthcare providers will be directly impacted," said HDI Director Thomas Prewitt, M.D. "Given HORNE's long tenure of service and our depth of experience in the healthcare industry, we believe it is our responsibility to help providers prepare for the new healthcare delivery models of the future."
Graduates of the inaugural ATP were: Dr. Peter Arnold (UMMC, Jackson, Miss.); James Cagle (Nashville, Tenn.); Neely Carlton (Jackson, Miss.); Regina Givens (Greenwood Leflore Hospital, Greenwood, Miss.); Dr. Bill Grantham (MEA, Clinton, Miss.); Mickey Hannon (Jackson, Tenn.); Barney Hebert (Hattiesburg, Miss.); Mark Hutson, Greenwood Leflore Hospital, Greenwood, Miss.); Janna Stiles (Greenwood Leflore Hospital, Greenwood, Miss.); Katherine Watts (Jackson, Tenn.); and Debbie Wyatt (Jackson, Tenn.).
Content for the four-month curriculum addressed the areas of improvement theory, data and measurement, delivery model change and leadership. Faculty included nationally recognized presenters Niall Brennan, director of the Office of Information Products and Data Analytics, Office of Enterprise Management, Centers for Medicare and Medicaid Services; Andre Delbecq, D.B.A., J. Thomas and Kathleen L. McCarthy University Professor at Santa Clara University; and Larry Grandia, Health Catalyst Board Member.
"Seeing the energy in the room of frontline care providers as they realized the potential of data to improve care was inspiring," Brennan said.
HDI's Advanced Training Program exposes participants to improvement theory, metrics and policy in ways that inevitably change their views of quality healthcare.
"The training program provides data-driven, proven tools and techniques for hospital staff and clinicians to actually eliminate barriers to consistent high quality care and reduce unnecessary cost," Grandia said. "Interestingly, the more internally-driven change that occurs, the less externally-driven change is required. Further, whichever healthcare provider seriously initiates the data-driven improvement journey, the better that organization will be prepared for future success, regardless of the transformation approach ultimately selected. The ATP approach will never lose its value with the passage of time. Data-driven continuous process improvement will be a, if not the, sustainable winning strategy for all future healthcare organizations."
Registration is now open for the Fall 2013 and Winter 2014 terms of HDI's Advanced Training Program. For more information or to register, visit http://www.horne-llp.com.
HORNE is one of the top 50 accounting and business advisory firms in the country and one of the largest providers of health care consulting and advisory services in the Southeast. For more information on HORNE LLP and the Healthcare Delivery Institute, visit http://www.horne-llp.com.