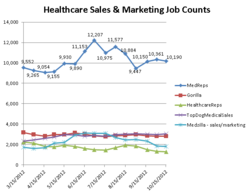 Regardless of who wins in November, we fully expect our job count to go up in January," says Karyn Mullins, EVP and GM of Healthcare Staffing Technologies. "Historically, it's the biggest month of the year, and we don't expect 2013 to be any different.
Alpharetta, GA (PRWEB) October 25, 2012
Healthcare reform may not be on the ballot this November, but voters will decide its fate nonetheless – and with it the direction of the healthcare industry, especially the medical device sector. Opinions vary drastically on which outcome would be best for the industry as a whole, but either way, companies appear to be waiting for the verdict before expanding headcount.
The medical device sector views a Mitt Romney presidency as a sure way to avoid the 2.3% medical device excise tax included in the Patient Protection and Affordable Care Act. Industry representatives say that the tax will crush innovation and kill jobs, so medtech companies may be waiting to learn the likelihood of the tax before moving forward with large-scale hiring, according to the Quarterly Healthcare Sales Jobs Report from MedReps.com. Despite this slowdown, medical device sales jobs continue to be more prevalent than pharmaceutical sales jobs or biotech sales jobs. In fact, the report indicates pharma jobs may be on a downward trend as a result of expiring patents and pricing pressures. The biotech job numbers are more volatile, making it difficult to detect a pattern.
The report has tracked job counts since March of 2012, and despite a brief surge this past summer, there has been less than 1 percent growth in the total number of healthcare sales jobs on all 5 monitored sites. The slowed growth may reflect the feeling of uncertainty that's prevalent in the industry, but the report also proposes that simply removing this ambiguity, no matter what the election's outcome, will likely get things moving again.
"There's no doubt the election will impact our industry," says Karyn Mullins, EVP and General Manager of Healthcare Staffing Technologies, which owns and operates MedReps.com. "But regardless of who wins in November, we fully expect our job count to go up in January. Historically, it's the biggest month of the year, and we don't expect 2013 to be any different."
The report indicates that no matter who wins the presidency, the industry will continue to expand. Healthcare sales job seekers should stay positive and get ready for the increase in hiring that the New Year will bring.
Read the full Healthcare Sales Jobs Report
About MedReps.com:
MedReps.com has been the go-to site for healthcare sales and marketing jobs for over a decade. The site is owned and operated by Healthcare Staffing Technologies, a member of the Jackson Healthcare family of companies. Jackson Healthcare is the fourth largest healthcare staffing company in the U.S. and serves more than four million patients in over 1,300 healthcare facilities. The company also provides technology solutions that enable total hospital efficiency.
Jackson Healthcare has earned national media coverage by providing innovative solutions to healthcare problems, in addition to championing local, national and international charitable work. It has been recognized as one of the Best Places to Work by the Atlanta Business Chronicle for five consecutive years.
Visit JacksonHealthcare.com to learn more.