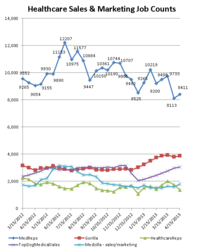 Alpharetta, GA (PRWEB) April 22, 2013
While the healthcare industry continues to lead the way in terms of growth and hiring, the medical device and pharma sectors are dealing with challenges that, experts say, could negatively impact hiring – and even cause layoffs. So now that the we've gone over the "patent cliff" and the medical device excise tax has taken effect, what impact have these circumstances had on healthcare sales hiring? According to the Quarterly Healthcare Sales Jobs Report from MedReps.com, not much. Growth may be relatively slow, but fortunately, there are still an increasing number of healthcare sales jobs available.
The report from MedReps monitors the number of medical device, pharmaceutical and biotech sales jobs posted on 5 online job boards specializing in the niche. The first quarter saw job counts rise on 4 of the 5 sites and overall growth of 14%. While the quarterly growth is encouraging, the job counts have fluctuated over the past year, in some cases significantly. So the year-over-year growth rate is measured at a more realistic 3%. This slow year-over-year growth suggests the majority of these open jobs are not sales force expansions, but rather replacement hiring.
What does this mean for the future of healthcare sales jobs? While many signs point to a potential slowdown, the job count numbers suggest the industry is still hiring sales people. Companies are moving forward and adjusting to their new circumstances, so while growth may be gradual, the industry will keep expanding.
Read the full Healthcare Sales Jobs Report on MedReps.com.
MedReps.com is owned and operated by Healthcare Staffing Technologies. As the leading job site in its niche, MedReps.com gives members access to the most sought after medical sales jobs and pharmaceutical sales jobs on the web. Members have access to an average of 9,000 jobs and can apply directly to the recruiters and hiring managers who post them. For more information on the #1 site for healthcare sales, marketing, and management careers, please visit MedReps.com.