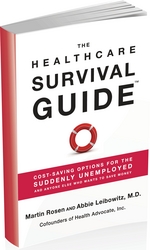 The jargon of healthcare and insurance is very confusing to many people. We have tried to provide a simple and concise translation to help people.
Plymouth Meeting, PA (Vocus) October 28, 2009
No matter the outcome of healthcare reform, there will be a continuing need to locate affordable medical care, quickly and easily. The Healthcare Survival Guide™ is a timely book packed with dozens of resources for low-cost insurance, medical services and medications that could be a lifeline to help individuals—and their families—right now, no matter their income, health, or employment status. Employers facing layoffs will also find the book a useful resource for supporting their employees.
The book, written by Martin Rosen and Abbie Leibowitz, M.D., co-founders of Health Advocate™, Inc., the nation's leading healthcare advocacy and assistance company, provides easy-to-read, quick access to a spectrum of affordable government, private and charitable insurance options; free or minimal-charge clinics; sources for discounted drugs; tips to shave off dollars on hospital bills; and steps to take to dispute a bill. There are even measures to stay healthy and prevent diseases to reduce doctor visits.
The Go-To Source for Affordable Options
"We wanted to provide the most useful and wide-ranging information all in one place about how to locate, understand and use healthcare," says Rosen, cofounder, Executive Vice President, and Chief Marketing Officer of Health Advocate. "The jargon of healthcare and insurance is very confusing to many people. We have tried to provide a simple and concise translation to help people."
The book goes beyond listing hundreds of websites and phone numbers; it provides clear explanations of insurance provisions, breaks down confusing lingo, and translates the fine print. It's a how-to book on navigating healthcare by those who know the system best.
"We want to share the lessons we have learned by helping hundreds of thousands of Americans get to the right healthcare resources," explains Dr. Leibowitz, cofounder, Executive Vice President, and Chief Medical Officer of Health Advocate. "Our experience suggests that many people need help locating the right resources and our book provides a good starting point."
Little-Known Secrets, Big Savings
"Everyone wants to save money on healthcare, whether they are covered or not, employed or not," says Rosen. Here are just a few of the book's money-saving tips:

You can elect COBRA for just one family member—those who are pregnant or have a pre-existing condition, for example.
Ask your doctor for a discount. A whopping 61 percent of patients who did, got one!
Look on pharmaceutical websites for free trial offers for medications.
Check out a university dental clinic, offering quality care for a great deal less.
When comparison-shopping for insurance, look for delays when coverage starts. It's just one red flag when reading the fine print.
Go over your hospital bills. Charging for the wrong number of days is a common error.
Ask about the cost before a medical procedure. We show how you can save thousands of dollars.
Website Provides the Latest Updates
The book's companion website, http://www.healthcaresurvivalguide.com, offers important updates, including any changes in information emerging as healthcare reform proposals are legislated. The website also serves as a forum to open the dialogue for sharing information and ideas.
Where to Get the Book
The Healthcare Survival Guide is priced at $6.95 and is available at Amazon.com and other book sellers. The book is available at no cost on the website.
The authors have received no funding from any outside source or any organization referenced in the book. A portion of the book sales will be donated to charity.
About Health Advocate
Health Advocate™, Inc., the nation's leading independent healthcare advocacy and assistance company, offers a spectrum of time- and money-saving solutions to businesses. We serve more than 15 million Americans and 5,000 clients—including the nation's largest companies—offering expert, personalized help to navigate the complex healthcare system and resolve clinical and insurance issues. Our complementary solutions, offered for an additional charge, include Wellness Advocate, Pricing Decision Support and HR solutions. The company also offers a direct-to-consumer advocacy service, called Health Proponent® to individuals who are not part of groups.
Founded in 2001 and headquartered in suburban Philadelphia, Health Advocate, has been recognized as one of America's fasting growing private companies by Inc.500 and is rated one of Philadelphia Magazine's Top 20 Places to Work.
Health Advocate is not affiliated with any insurance or third party provider. Health Advocate does not replace health insurance coverage, provide medical care or recommend treatment.
http://www.HealthAdvocate.com
http://www.HealthProponent.com
Contact:
Jessica Parker-Smith
Public Relations Director
Health Advocate, Inc.
D: 610-397-7753/ Toll Free: 866-385-8033 x7753
C: 484-354-8084
###