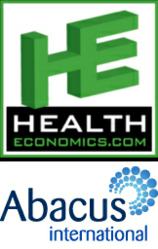 We greatly value the trust that Abacus International has placed in HealthEconomics.Com year after year to help promote their ever-evolving range of services
Ponte Vedra Beach, Florida (PRWEB) March 08, 2013
HealthEconomics.Com is pleased to announce their continuing partnership with Abacus International, specialists in health economics, systematic review, and HTA.
"We're excited that Abacus has chosen not only to come aboard for a fourth year, but to expand their access to the variety of services we offer by upgrading their membership in our Annual Marketing Partnership Program," said Dr. Patti Peeples, President of HealthEconomics.Com. "Abacus International is regarded throughout the pharmaceutical and biotech industry for their strategic consulting in health economic and evidence-based solutions for all phases of the product life cycle. Their post-launch communication tools for presenting cost and outcomes data for various customer groups is particularly well-regarded. It's an honor to know a key provider such as Abacus views HealthEconomics.Com as an important resource in promoting their ever-evolving range of services."
The HealthEconomics.Com Annual Marketing Partnership Program allows partners to communicate with a global community of 20,000 pharmaceutical, health outcomes research, pricing and reimbursement professionals by offering a tested array of digital marketing solutions. To date, 26 Annual Marketing Partners have signed with HealthEconomics.Com with >90%, like Abacus International, renewing their partnerships every year.
Founded in 1995, Abacus International (http://www.abacusint.com) develops evidence-based market access solutions for many of the world's leading healthcare companies. Key services such as strategic payer landscaping, health economics and modeling, and value communication tools provide integrated market access solutions throughout the product life-cycle of a pharmaceutical or medical device. With a reputation built on a commitment to academic rigor and keen market insight, Abacus International continues to exceed client expectations with intelligent solutions that insure the product development process, from pre-launch to market access, achieves the best possible outcome.
In December 2012 Abacus International was acquired by Decision Resources Group, one of the world's leading research and advisory firms focusing on healthcare insights and analysis.
HealthEconomics.Com (http://www.healtheconomics.com) is the world's most comprehensive and credible website for resources in healthcare value and market access and is a trusted resource for the biopharmaceutical and healthcare industry. HealthEconomics.Com, established in 1994, also provides policy updates, professional development, education resources, jobs and conferences for health economics, outcomes research, and reimbursement professionals. The website attracts over 10,000 visitors every month and the well-respected HealthEconomics.Com Newsletter reaches 20,000 professionals every week.
News Media interested in receiving the most current information on healthcare value and market access may obtain a free subscription to HealthEconomics.Com by visiting the site or by subscribing to the HealthEconomics.Com Newsletter.