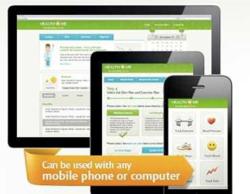 This HEALTHeME pilot will help us determine the effectiveness of online-based weight management programs among our employee population.
Durham, NC (PRWEB) July 20, 2011
HEALTHeME announced today that they are piloting their new mobile phone-based program for weight management with Blue Cross and Blue Shield of North Carolina employees. HEALTHeME customizes clinically proven weight loss plans based on at least 60 different dimensions of personality and preference.
According to the Centers for Disease Control and Prevention, 209 million Americans are overweight or obese. Obesity has been linked to a variety of chronic conditions including diabetes, heart disease, sleep apnea, and depression. In the U.S. healthcare expenditures related to obesity tops $147 billion dollars. These troubling statistics have many organizations searching for weight loss interventions that are scalable, yet effective.
"Even with the plentiful resources we offer employees who are trying to reach a healthy weight, we need a scalable solution that can target individual employees and keep them motivated," said Jennifer Arnold, manager of Health and Wellness at BCBSNC. "This HEALTHeME pilot will help us determine the effectiveness of online-based weight management programs among our employee population."
The HEALTHeME platform uses web and SMS texting applications to proactively deliver personalized health and weight management solutions.
"HEALTHeME keeps health and wellness top of mind with daily text message reminders. The HEALTHeME platform combines cutting-edge psychology, artificial intelligence, and SMS technology with clinical diet and exercise research. This personalizes a weight loss plan for every unique user and provides them with the continuous support needed to make lasting changes," said Sloan Rachmuth, Co-founder and program director of HEALTHeME.
For 12 weeks, employees will use HEALTHeME to journal and analyze diet and exercise data in order to inform better health decisions. Users will receive advice and support via text messages based on their journal entries and customized plans. HEALTHeME provides users with the option to share their results with their healthcare provider through our HIPAA secured communication channel.
Key Facts:

HEALTHeME is HIPAA compliant, so the platform securely connects with healthcare providers to share users' progress
HEALTHeME is adaptable, our engine gets to know users better after each interaction
Text messages provide automatic real-time advice, encouragement, and support
Online dashboard gives users a fun way to journal food, exercise, and other health signals
About HEALTHeME
Founded in 2010 by Guy Rachmuth, Ph.D. and Sloan Rachmuth, HEALTHeME began as a physician-directed weight loss program. Formerly with Smith & Nephew and Covidien, Sloan has 15 years' experience in obesity counseling. Guy, CEO, is a Harvard and MIT trained biomedical engineer. HEALTHeME is a recipient of the NC Idea Innovation Grant and Launchbox Digital Accelerator selection for 2010.
Visit: http://www.myhealtheme.com
Media Contact:
Sloan Rachmuth
Program Director
HEALTHeMe
Durham, North Carolina
877-704-1818
srachmuth(at)healthemedoc(dot)com
# # #