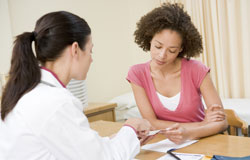 "I'm encouraged by the service that HealthExpress are offering, however women do need to recognise that the morning-after pill is an emergency contraception"- Dr Hilary Jones, HealthExpress Medical Adviser
London, United Kingdom (PRWEB UK) 31 January 2013
HealthExpress, the UK's first online clinic, saw a 32 per cent increase in demand within London for the morning-after pill during December last year, and so to fulfill demand are making sure that women in the Capital can receive the medication in record time this year.
With many City women finding it difficult to source the medication quickly, especially those who work long hours, HealthExpress predicts that there will be a significant spike in distribution this year.
The morning-after pill is a form of emergency contraception which usually works for up to 72 hours after unprotected sex. Though effective for up to three days after, the online clinic advises that the sooner the pill is taken, the better the chance of preventing unwanted pregnancy. The ideal time frame is 12 hours after intercourse.
Dr Hilary Jones, medical adviser to HealthExpress, comments, 'I'm encouraged by the service that HealthExpress are offering, however, women do need to recognise that the morning-after pill is an emergency contraception pill that is available for preventing unwanted pregnancy. It should only be used as a precautionary treatment. They do not protect against STIs and they should not be used as a regular method of contraception.
If women need advice on what contraception to use then HealthExpress' trained online doctors are able to assist them.'
Dr Hilary Jones covers different contraceptive methods here: http://www.youtube.com/watch?v=ELjKU24uZSw&feature=player_embedded

For more information:
Please contact:
Chloe August, PHA Media
0207 0251 372
chloe(at)pha-media(dot)com
Notes to Editors:
The morning-after pill is at its most effective the sooner you take it after unprotected sex. Health Express dispense two types. The first, Levonelle, prevents 95% of pregnancies if taken within 24 hours of unprotected sex, 85% after 48 hours and 58% if taken within 72 hours.
ellaOne is thought to be a 98% effective form of emergency contraception, research has shown that only two in every 100 take ellaOne become pregnant within five days of intercourse.
Levonelle and ellaOne can be used by women over the age of 18 who have had unprotected sex, or if their regular contraceptive has failed. You should only use a morning-after pill once every menstrual cycle. For the rest of your menstrual cycle you should continue to use a condom even if you are on a separate contraceptive pill.