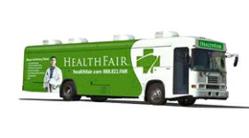 On The Road To Better Health
Winter Park, FL (Vocus/PRWEB) February 25, 2011
Hospitals throughout the United States are joining forces with Healthfair, the nation's leading provider of mobile health screening services, to bring preventive health services to hundreds of communities.
Traditionally, hospitals have only focused on treatment. Now, however, thanks to healthcare reform, reduced reimbursement rates, and increased competition, hospitals are increasingly interested in providing preventive care in order to better connect with the communities they serve. There has been a significant growth in hospital outreach services over the past five years, from making flu shots available to providing educational seminars and screenings. Unfortunately, hospitals are rarely properly equipped to provide these outreach services efficiently and cost-effectively.
To fill this gap, Healthfair has converted a fleet of forty foot private label coach buses into mobile health screening centers that reach deep inside various communities to provide high quality advanced testing to the public at a fraction of the cost of hospitals. More than twenty percent of those screened are found to have health abnormalities that require follow up care, so partnering with local hospitals was the next logical step..
"This is a match made in heaven," says James Ekbatani, CEO and chairman of Healthfair. "For twelve years Healthfair has provided community screenings to hundreds of thousands of people nationwide, but we couldn't help those who sought follow up advice." Having relationships with local hospitals means that Healthfair customers can receive continuous care if the results of their screenings demand further attention. "Customers who don't have a regular physician can go back to the hospital systems in their local community for follow-up appointments," continues Ekbatani. "This is simply good quality patient care."
Florida Hospital was the first hospital system to pilot this joint approach, and the results have been remarkable. "Up to fifteen percent of those screened became hospital patients using inpatient, outpatient, and physician referral services." said Heather Fox, the assistant director of marketing for Florida Hospital. "We are very pleased with our relationship with Healthfair and the response we have received from our communities over the past five years."
Based on the success of the pilot program several new hospital systems including Broward Health, HCA of Houston, and Baptist of Birmingham have signed up this February alone. Twenty three other partnerships are being considered. Under the current arrangement, Healthfair provides total turnkey community health screening using one of its eighteen mobile units. The program includes an extensive multimedia marketing campaign, private label buses and staffing, scheduling, and numerous other associated items and efforts. "The response from this program has been phenomenal," says Ekbatani, "and we are looking forward to expanding these affiliations nationwide."
Learn more about HealthFair at http://www.healthfair.com or call 1-888-822-3247.
# # #